Posted: 2/8/2023 | February 8th, 2023
Since coming out in 2021, the Bilt Rewards Mastercard has been an absolute game-changer for renters that love to travel. It's the only credit card that allows you to earn points on your monthly rent payment — up to 50,000 points per year, (which could pay for a round-trip flight to Hawaii, for example).
You can use these points like any other travel rewards points (such as those from Chase, American Express, or Capital One), transferring them to airline or hotel partners or paying for travel directly through a specific portal.
But while the points-for-rent perk gets all the attention (and rightfully so), the Bilt Rewards Mastercard is more than a one-trick pony.
To truly get the most out of this valuable card (one that I think every renter should have in their wallet), here are some key things to know about the Bilt Mastercard:
1. There's no annual fee
One of the most important things to consider when opening a new credit card is whether there is an annual fee, and if so, whether paying it makes sense according to your spending habits and goals.
Most of the best travel credit cards have annual fees, and for frequent travelers, they're usually worth it. You can get much more value out of a card than its annual fee if you're an avid flier who enjoys lounge access, priority boarding, checking extra luggage, or other common perks.
But you don't have to worry about that with Bilt, as the card currently has no fee. You can earn points on your rent completely for free!
2. There's also no welcome offer
However, the flip side of there being no annual fee is that there is also no welcome offer on the Bilt Rewards Mastercard.
Welcome offers (also known as sign-up bonuses) are the points you earn by spending a certain amount within a specified time frame after opening a credit card. For example, you might be able to earn 60,000 points if you spend $3,000 USD within the first three months of opening a particular card.
These offers jump-start your points "fund" and can often amount to a free round-trip flight right off the bat. Welcome offers are so vital to any good travel hacking strategy that I usually advise against signing up for a card unless there is a sizable one. The fact that I wholeheartedly recommend the Bilt card, even without a welcome offer, should show you just how great I think this card is.
3. There is a minimum transaction requirement to earn points
After opening the Bilt Mastercard, perhaps the most important thing to know is that you must make a minimum of five transactions each statement period to earn points. That goes for all points, including the points you'll receive for paying your rent.
That means if you don't make five purchases on your card that period, you won't earn any points at all — even if you've paid rent through Bilt.
The good news is that there's no minimum purchase requirement, only a minimum transaction requirement. As long as you make five purchases — of any size — on your Bilt card each month, you'll get your points.
4. You can earn points on more than just rent
While earning points on rent is the main selling point, the card offers additional ways to earn points too:
2x points on travel
3x points on dining
1x points on all other purchases
(These earning categories are the same as fan-favorite Chase Sapphire Preferred, for which there's an annual fee of $95 USD).
So, for example, if you use your Bilt card during the month on travel or dining purchases, you'll not only get 2-3 times the points, but you'll also hit your minimum five-purchase requirement.
5. You can max out on points earned for rent
It's also worth using your card for purchases other than rent because of the fact that you can max out on the number of points earned for rent (points for rent are capped at 50,000 per year). After that, you won't earn any more points on rent for that year.
However, considering you earn at a rate of 1 Bilt point per $1 spent on rent, you'll only reach the limit if you spend over $4,166/month in rent. If your rental payment is under that, you don't have to worry about hitting the limit.
6. You can earn even more points on rent day
On the first day of the month, your points earning power is doubled, meaning that you'll earn 6x points on dining, 4x points on travel, and 2x on other purchases (except rent) made on the first of the month.
If you get into the habit of using your Bilt card for everything you buy on the first day of the month, you'll already be that much closer to hitting your five minimum transactions, all while getting even more points for your purchases.
And while no one wants more apps on their phones, you will want to download the Bilt app for chances to earn even more points. Every rent day, there are new ways to easily earn points in the app. These change every month, but in the past have included playing Point Quest, in which you earn points for correct answers to trivia questions.
There's also the Rent Day Challenge, in which you can enter to win a free month's rent by correctly completing a fill-in-the-blank phrase during the day.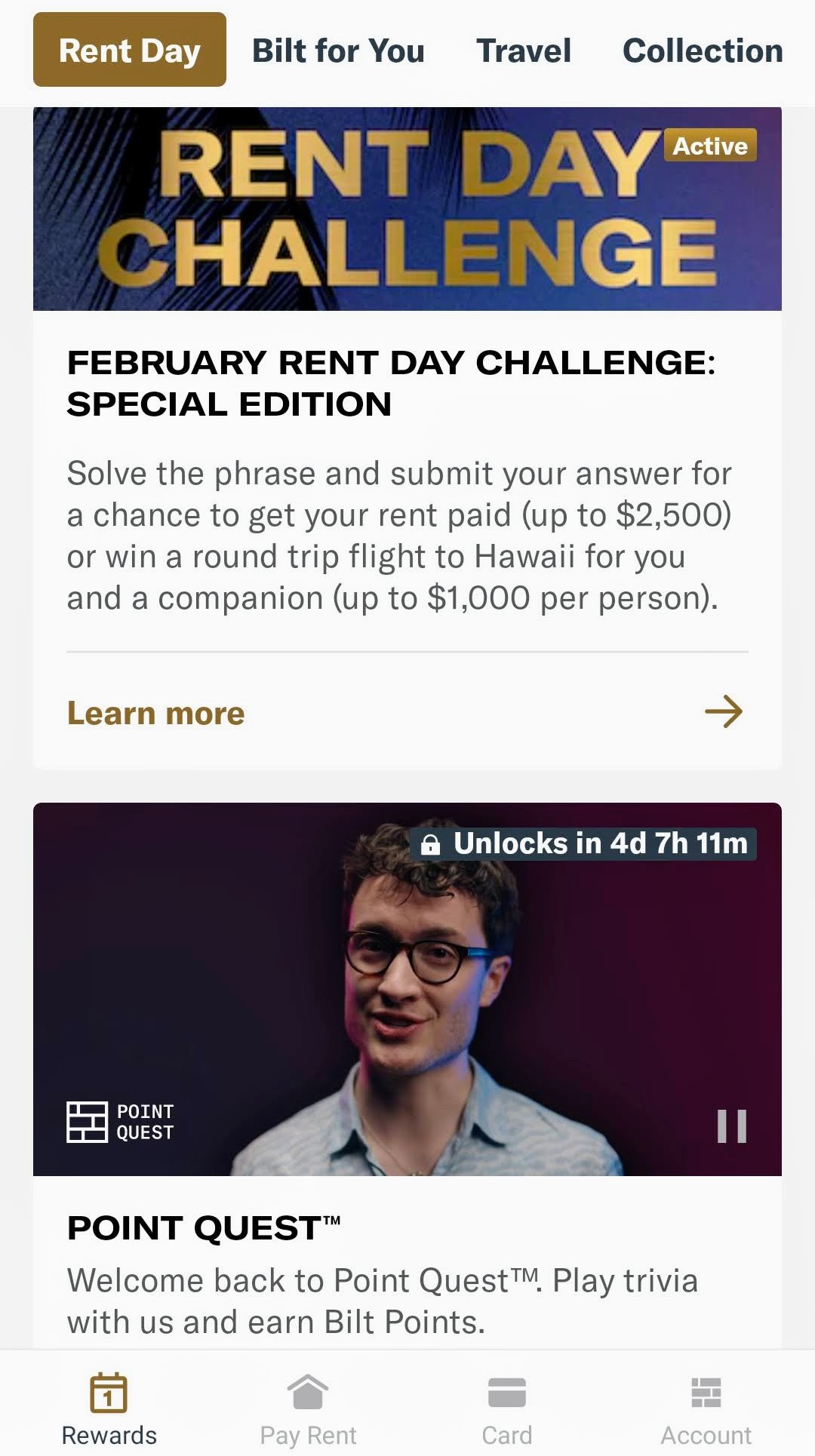 While some of these opportunities don't offer many points, they take very little time to complete, and they all add up!
7. Bilt points = American Airlines points
Another reason to amass points is because Bilt has American Airlines as a transfer partner — and it's the only card that does. Since no other card offers points that transfer to American, Bilt is the only way to get AA points without having an AA card.
This is great news for American Airlines loyalists or travelers with specific trips in mind for which they want to use AA points. For example, I'm currently prioritizing my Bilt card instead of my Chase Sapphire, because I want those AA points for a trip I'm planning to Japan this year (AA is a partner with Japan Airlines).
In addition to American Airlines, you can transfer your Bilt points on a 1:1 basis to many other travel partners, including:
Air Canada
Air France
Cathay Pacific
Emirates
Hawaiian Airlines
Hyatt
IHG
Turkish Airlines
United
Virgin Atlantic
You can also redeem points for fitness classes, like SoulCycle, Solidcore, Rumble, and Y7, and for items in the Bilt Collection, a curated selection of artisan home décor items. However, I'd advise against this, as redeeming points for fitness classes comes out to around one point per cent — and you can get a much better redemption on travel purchases.
8. Bilt offers great travel protection
Beyond its points-earning capabilities, Bilt offers solid travel protection, especially for a no-fee card. Just keep in mind that you must book travel using the Bilt card in order to receive these benefits. The protections are similar to that of other "starter" travel credit cards, like the Chase Sapphire Preferred.
Here are the travel protections that Bilt currently offers:
Trip cancellation protection and interruption coverage
Trip delay reimbursement (for delays of six hours or more)
Car rental collision coverage
Cell phone protection (up to $800 USD)
No foreign transaction fees
Click here for a full breakdown of rewards and benefits and rates and fees.
While these protections — like that of any card — aren't a substitute for travel insurance (which you should always get!), they're great perks, and you get them at no extra cost.
***
All in all, getting the Bilt card is a no-brainer for anyone who pays rent in the US, as it's currently the only way to earn points for free on this necessary monthly expense.
But, while it's worth getting for just that benefit alone, the Bilt card offers a lot of other awesome features that make it even more valuable. The ability to transfer to American Airlines, double points on Rent Day, new ways to earn additional points, and a well-rounded roster of travel benefits and protections make the Bilt card more than worthy of space in your wallet. It's become one of my favorite cards and I find myself reaching for it a lot!
Click here to sign up for the Bilt Mastercard!
Want to learn all about points and miles?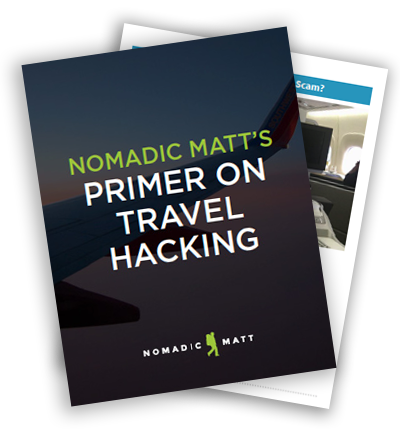 Stop paying full price for airfare! Download our free guide to travel hacking and learn:
How to pick a credit card
How to earn miles for free flights & hotels
Is travel hacking really a scam?
Book Your Trip: Logistical Tips and Tricks
Book Your Flight
Find a cheap flight by using Skyscanner. It's my favorite search engine because it searches websites and airlines around the globe so you always know no stone is being left unturned.
Book Your Accommodation
You can book your hostel with Hostelworld. If you want to stay somewhere other than a hostel, use Booking.com as it consistently returns the cheapest rates for guesthouses and hotels.
Don't Forget Travel Insurance
Travel insurance will protect you against illness, injury, theft, and cancellations. It's comprehensive protection in case anything goes wrong. I never go on a trip without it as I've had to use it many times in the past. My favorite companies that offer the best service and value are:
Want to travel for free?
Travel credit cards allow you to earn points that can be redeemed for free flights and accommodation. They are what keep me traveling so much for so little. Check out my guide to picking the right card and my current favorites to get started and see the latest best deals.
Ready to Book Your Trip?
Check out my resource page for the best companies to use when you travel. I list all the ones I use when I travel. They are the best in class and you can't go wrong using them on your trip.
The post 8 Things to Know About the Bilt Rewards Mastercard appeared first on Nomadic Matt's Travel Site.
Source link