Posted: 8/14/23 | August 14th, 2023
For most of my travels, I've been a hostel guy through and through. And, while I still stay in hostels when I travel, since I run a business from the road, I often need a bit more privacy and quiet than what a hostel can provide.
But hotels can get pricey and I'm still a cheap backpacker at heart. I hate spending money on a room I am only going to be in for a few hours a day. To save money on hotels, I started travel hacking. By using points and hotel-branded credit cards to get free stays, I've saved thousands and thousands of dollars in accommodations over the years.
However, it can be a bit of a pain to find hotel award availability. Each hotel has its own calendar of award nights (nights that you can book using points), and it can be time-consuming to flip through these virtual calendars to find the best deal.
That's where Awayz comes in.
This tool searches across hotel programs to help you find the best place to use to your hard-earned points on your next hotel stay.
Until now, there's been nothing this comprehensive for finding hotel award nights, so I'm super excited that it finally exists. Out of the other (few) hotel award tools out there, it's the most user-friendly, searches across the most hotel programs, and has the best features and filters.
In this review, I'll show you what the site is all about and how to use it to find free hotel stays for your next trip!
What is Awayz?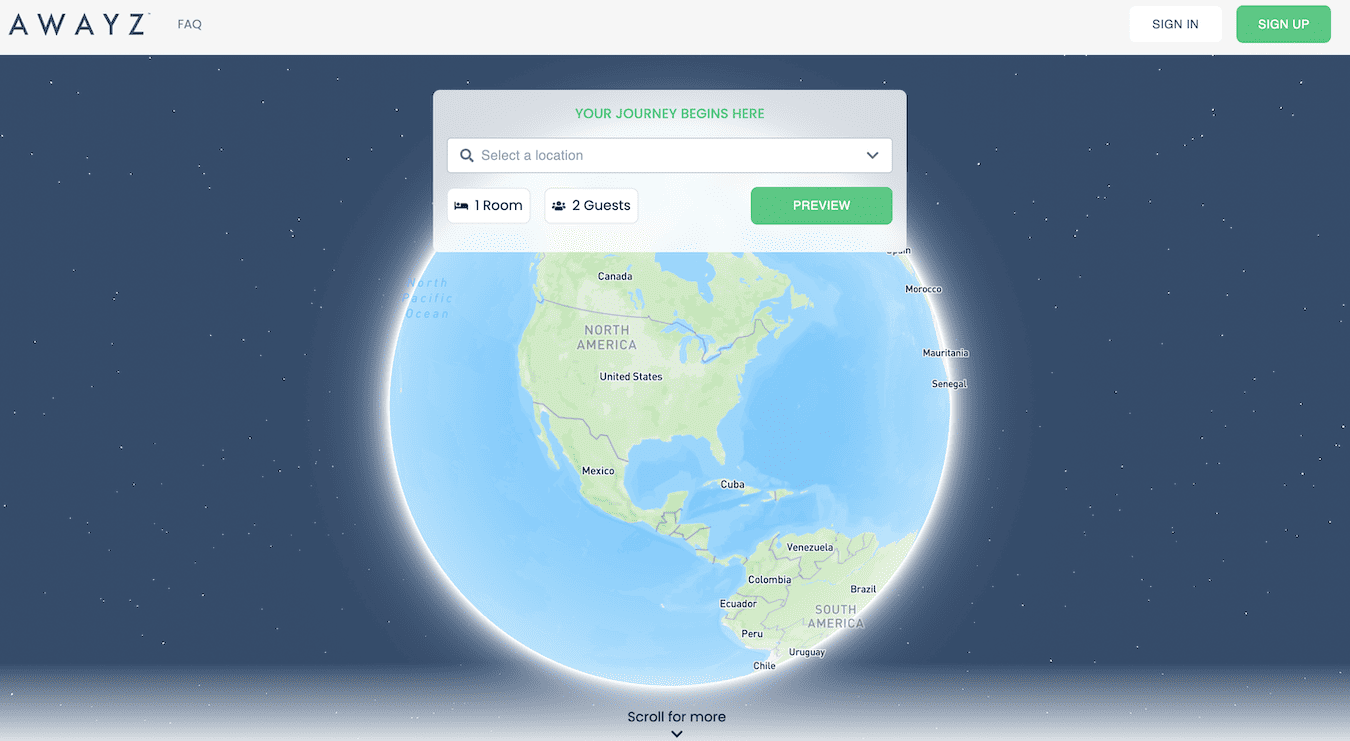 Awayz is a tool specifically for booking hotels using points. If you're familiar with the points-and-miles booking tool Point.me, it's like that, but for hotels instead of flights (if you're not familiar with point.me, check out my review to learn more).
Like other booking tools, you simply put in your location and dates, and out pop a ton of options for hotels that you can book with points. It also shows you a side-by-side comparison of the number of points needed, alongside the cash price, and gives its recommendation regarding which is the better deal. This is a hugely helpful feature if you don't want to spend time and energy crunching the numbers yourself.
Currently, Awayz supports Hilton, Hyatt, Marriott, IHG, and Accor, with Wyndham and Choice to be added soon. Being able to search across multiple hotel chains is another great feature, especially if you're trying to use a transferable currency, like Amex Membership Rewards or Chase Ultimate Rewards, which can be transferred and used at various hotel chains.
Here are some of the main features that Awayz offers:
Availability alerts
A 12-month award availability calendar
A map feature
A cash vs. points comparison
The ability to input your existing points programs to tailor the results
Free-night award availability is highlighted
How Awayz Works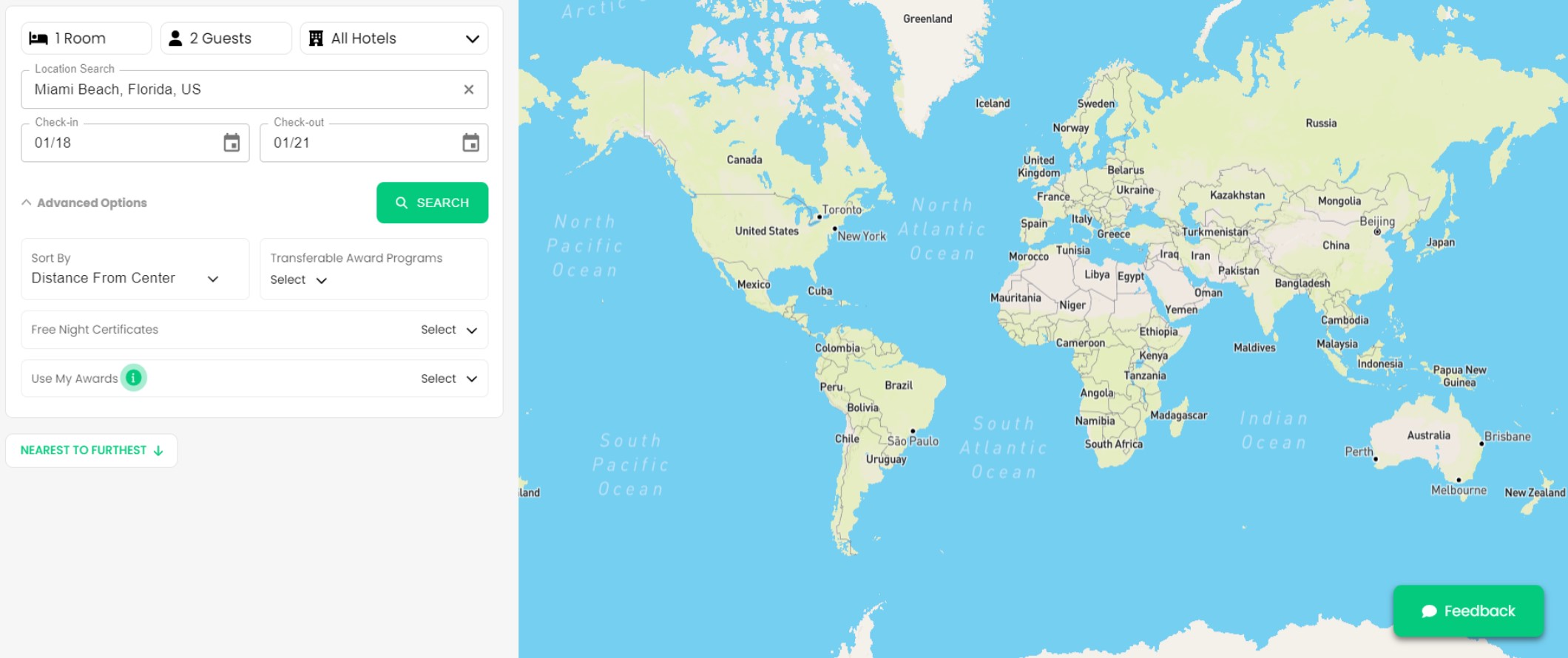 To use Awayz, all you have to do is put in your desired details (location, dates, etc.). It then brings up all the available hotels you could book with points. You can then filter your results until you find a hotel that works best for you.
Awayz operates on a subscription model. There is a free trial, though, so you can try it out before signing up. With the free trial, you'll get five searches and five hotel availability alerts, as well as access to all of Awayz's features, with the exception of hotel deal alerts.
The Trip Pass ($4.99) is really the better option if you want to try Awayz to its full potential, as it gives you the ability to do 50 searches in 72 hours (the five searches on the free trial will be gone before you know it), as well as 10 availability alerts.
If you travel and search for hotels regularly, you'll want the premium subscription ($8.33/month when paid annually, or $11.99 when paid monthly). This tier gives you 250 monthly searches, 10 availability alerts, and hotel deal alerts (the only tier that gives this).
You can see the full breakdown of the difference between plans here: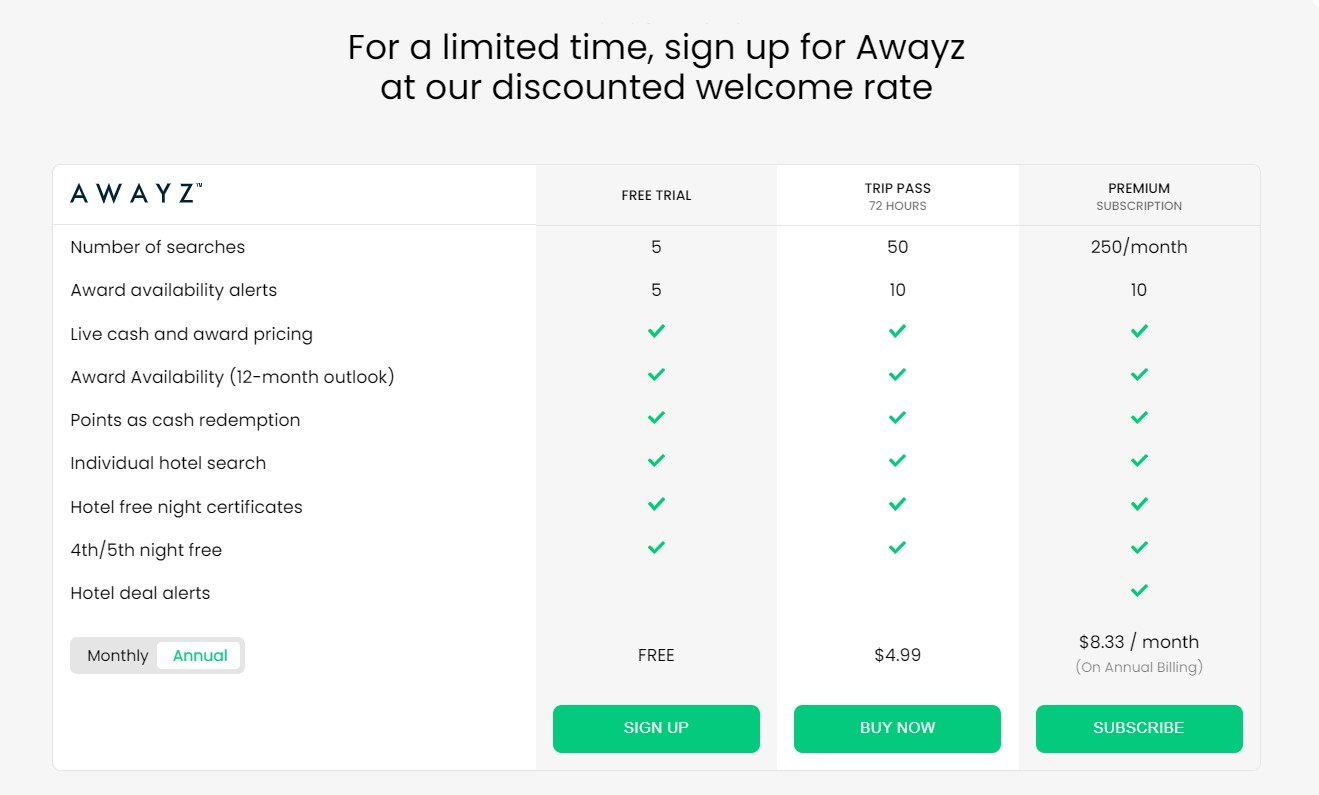 If you sign up for an annual plan using the code nomadicmatt, you'll get $10 off the annual Premium plan.
Setting Up Your Awayz Wallet
Before you start searching, you'll want to set up the wallet and awards section. Here, you can add your hotel loyalty programs, credit cards, and the number of points you have in each.
This is important for a few reasons.
First, you can then filter by your available points when searching. There's no sense in bringing up hotels that you can't book!
Second, Awayz will take into consideration perks like free nights (a perk on most of the best hotel credit cards), bank transfer bonus promotions (e.g, get 30% more points when transferring Membership Rewards to Hilton Honors), or currencies where you can use points as cash (such as Chase Ultimate Rewards).
Awayz currently supports the following:
Hotel programs: Hilton Honors, IHG One Rewards, Marriott Bonvoy, World of Hyatt, Accor Live Limitless
Transferrable currencies: American Express Membership Rewards, Chase Ultimate Rewards, Bilt Rewards, Capital One Miles, Citi ThankYou points, and Altitude Reserve points
You don't have to add any identifying information when adding your programs. This is a positive for those concerned about security, but a negative for those who want the ease of automatic syncing of their point balances.
Instead, you'll have to add in your current balances yourself, as you can see in this example: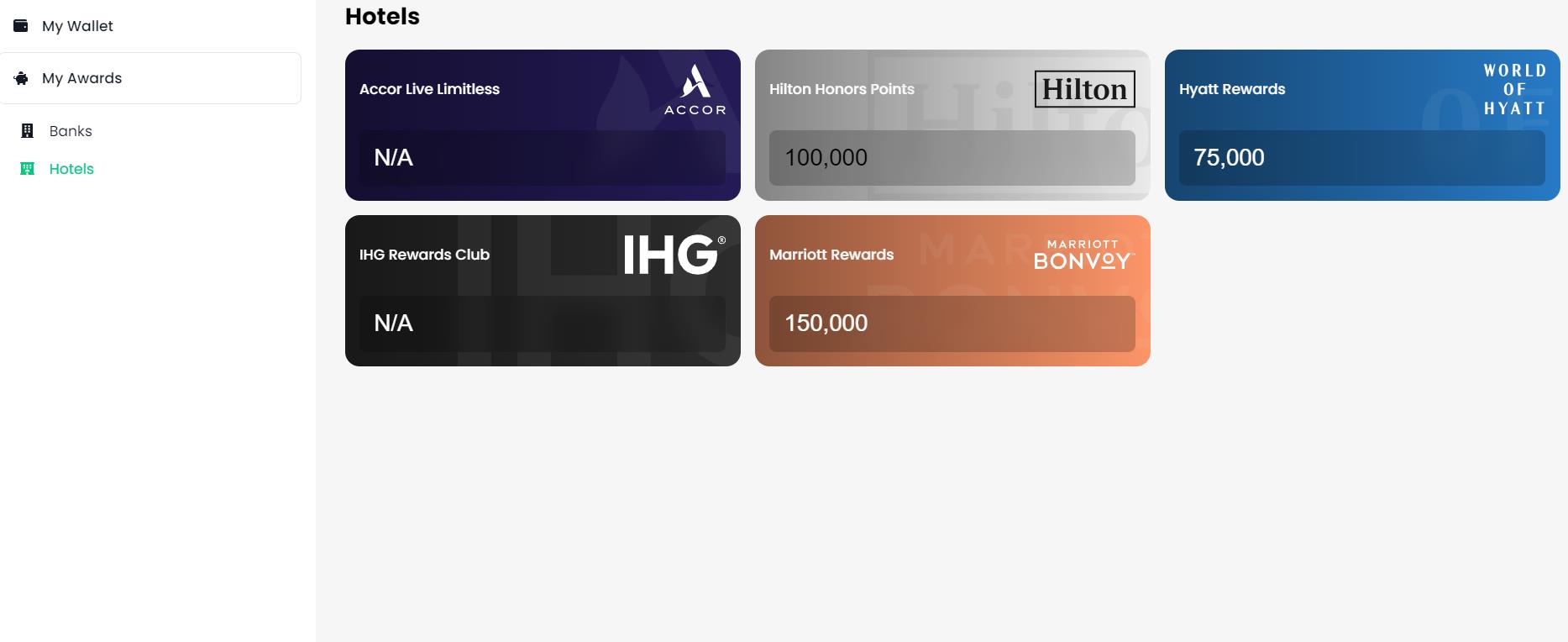 You can search hotels without adding this info but adding this information in makes it a lot easier to see what your options are without guessing.
How to Search and Book Hotels with Awayz
For our sample search, let's say we want to get some summer sun by going to Miami for a long weekend in January. By firing off a quick search with just your dates and location, you'll get the following: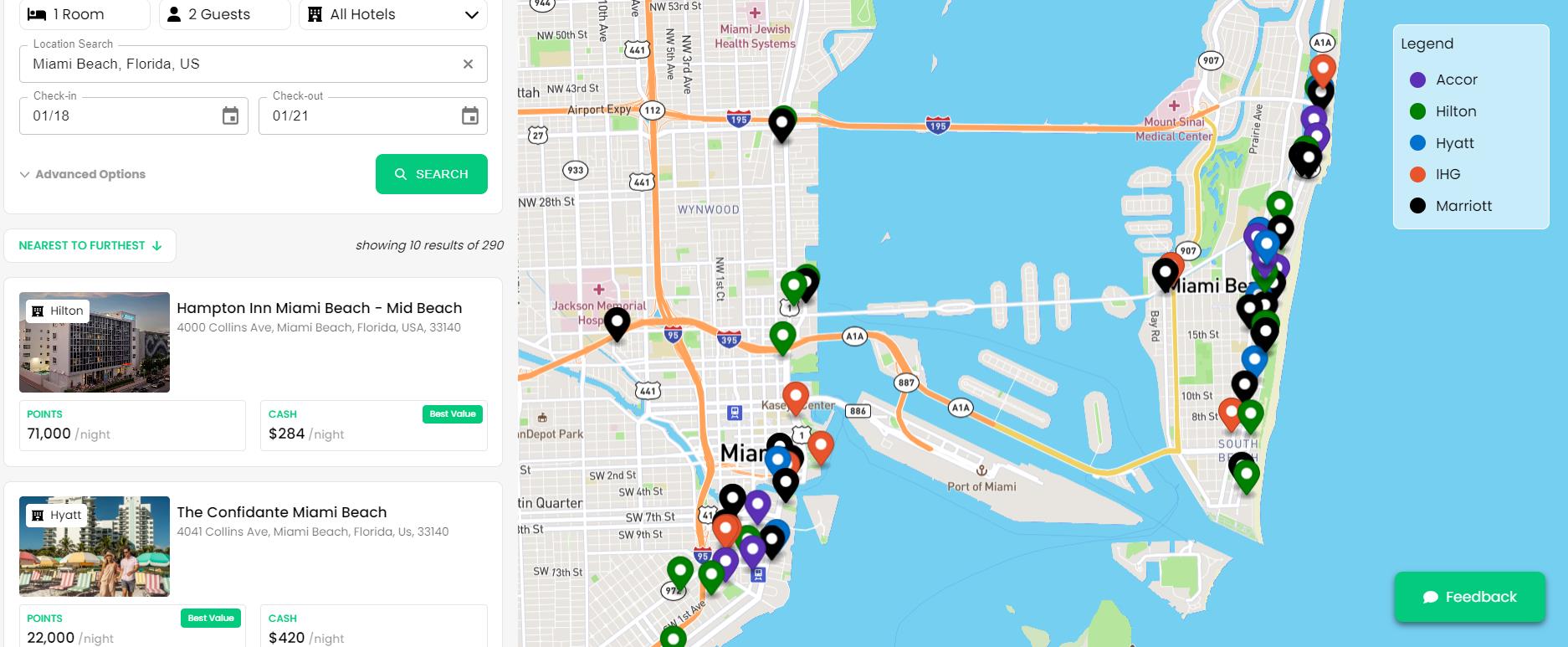 But since this basic search brings up more hotels than you'll want to wade through, your next step is to filter the results.
The available search filters are:
Hotel brands
Transferable currencies and hotel loyalty programs
Free-night certificate availability
Your existing points (the numbers you input at the wallet and awards section)
You can also sort by distance from the center of the destination as well as by point or cash values.
Here's what it looks like (grayed-out programs are ones you haven't entered point values for):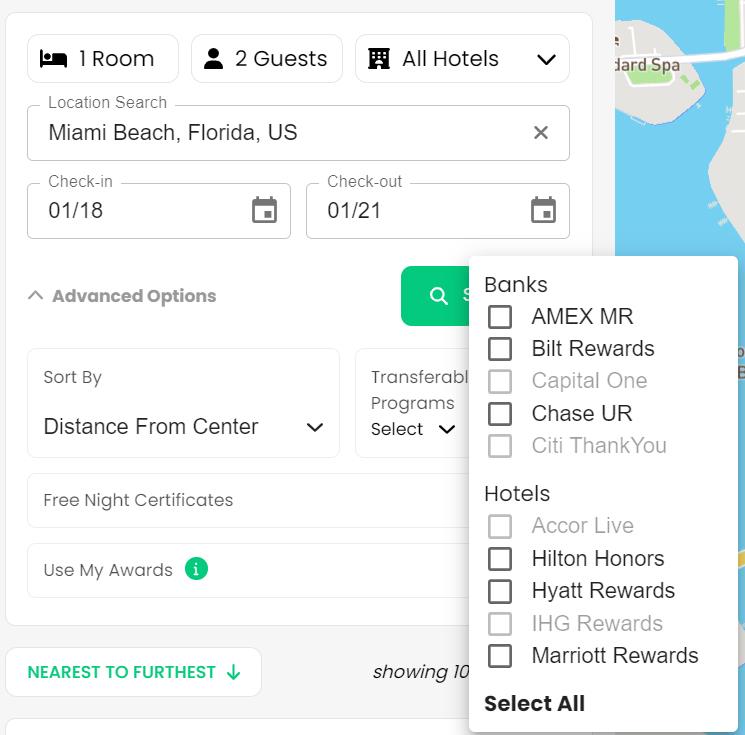 When it brings up the search results, Awayz uses its own algorithm to also highlight whether it thinks using points or cash is a better value, which is super useful information as you weigh your options.
Once you've filtered and looked through the results to find a hotel that you're interested in, select it to get even more details. You'll see the best value, cash price, the price if you use points as cash, and buttons to see the entire award availability calendar or to set an availability alert if your preferred dates aren't currently available.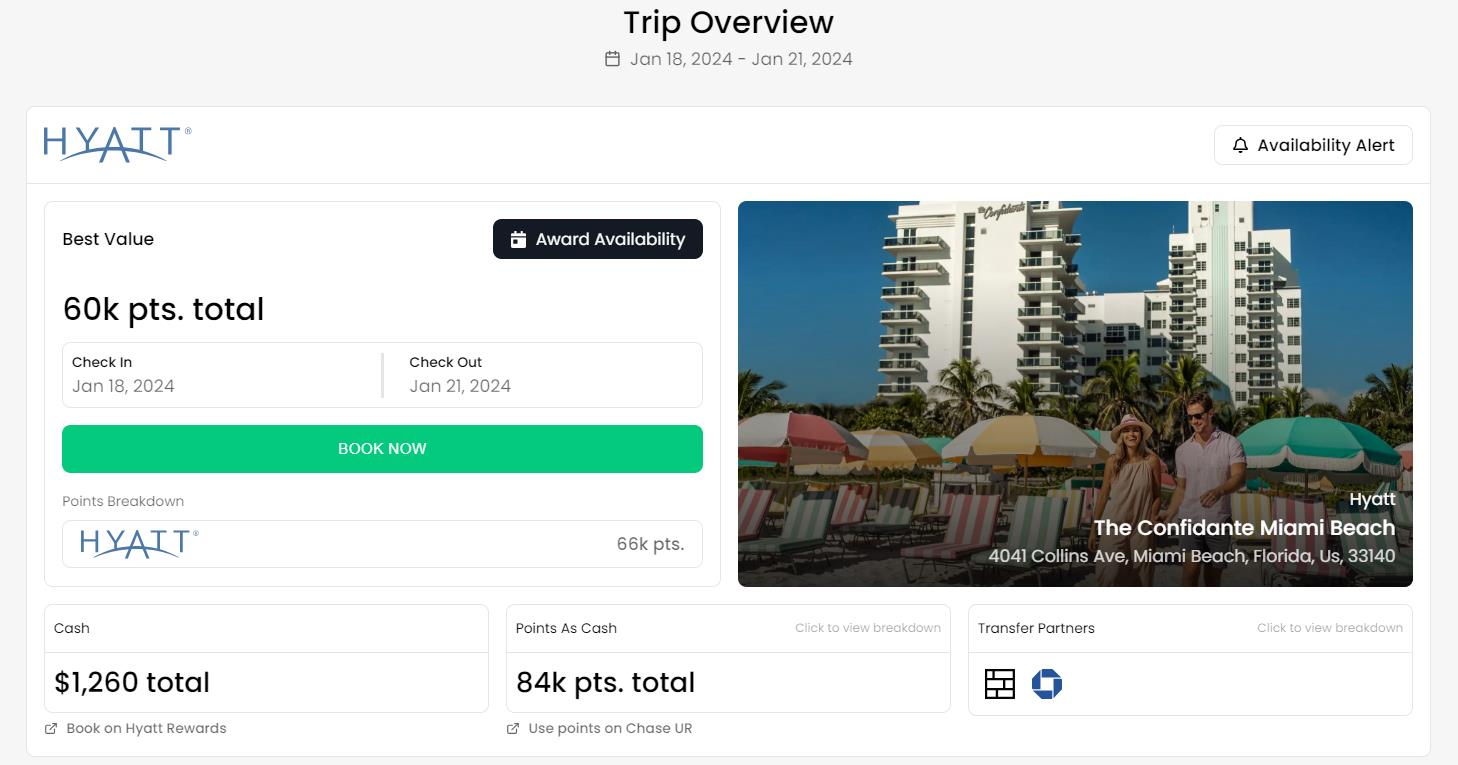 In this case, the best deal is using Hyatt Rewards points, which you can transfer from Bilt or Chase (as indicated in the bottom right-hand "Transfer Partner" box).
If you're flexible with your dates and want to see the entire award availability calendar for this hotel, simply hit that black button and up it pops. It'll highlight the dates you're currently searching, but you can also scroll through the entire 12-month calendar to see if there are better deals out there. The lowest rates (in both cash and points) are highlighted in green, while the highest rates are highlighted in red: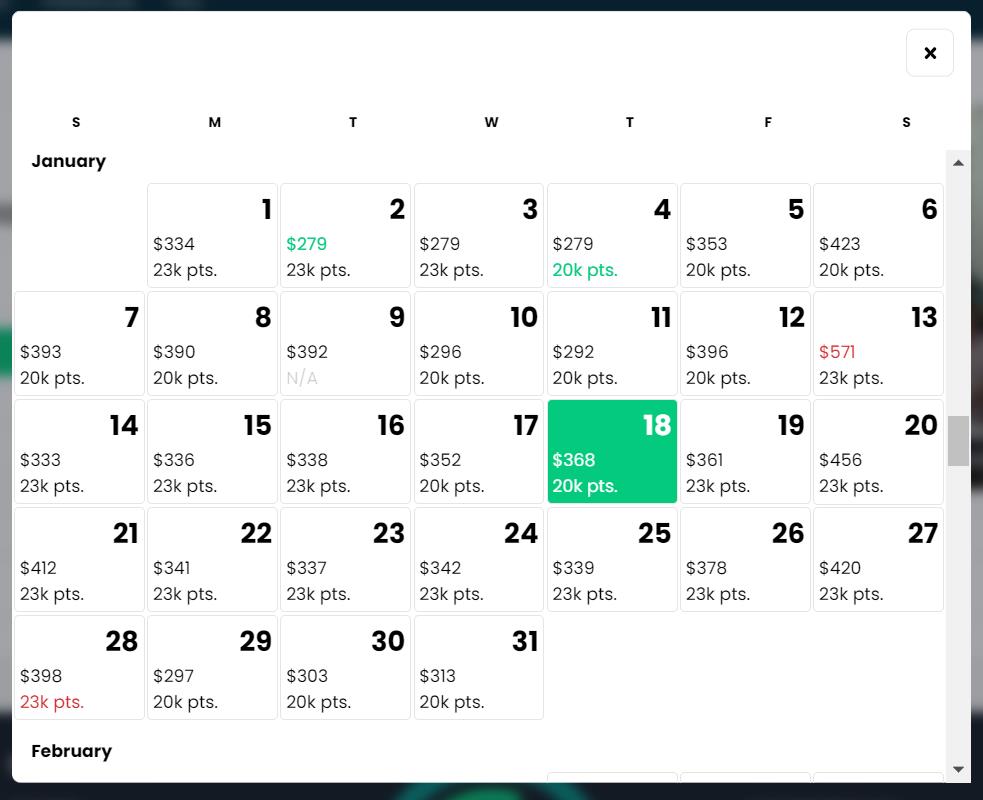 In this case, you can see that if you could shift your long weekend trip back by just two weeks, you could save 9,000 points.
After all that digging, let's say you've decided that this is the hotel you want to book. Hit "book now," and you'll be brought to the hotel's website. You're on your own from there, but even if you need to transfer points, it's generally a very straightforward process.
Pros of Awayz
1. The ability to search across many programs at once
The most obvious pro of using Awayz is the ability to pull up all hotels you could book with points for your desired dates and location. Without this tool, you'd have to search across all the programs in which you have points (or could have points if you transferred them there). That involves logging into each website, finding the award charts, factoring in any fees, and comparing across all programs. It's not that hard, but it does take time.
2. Points-to-cash comparison
This feature is another major benefit to using Awayz. Again, comparing cash and point values is a time-consuming process, especially when you're new to using points for hotel stays. Awayz takes the guesswork out of this process by using its own algorithm (which is continually updated with the latest data) to determine the best value.
3. Easy-to-use interface with helpful filters
The website is very straightforward and easy to use, and the filters make quick work of helping you find hotels that work for your needs. The ability to input awards programs and existing points helps you narrow your search down even more.
Cons of Awayz
1. It's a paid tool
Awayz does have a limited free trial, but if you want to get the most out of this tool, you'll have to pay: either $4.99 for a 72-hour Trip Pass, or $8.33/11.99 (annual billing vs. monthly billing) for Premium.
However, if you're new to travel hacking and haven't quite memorized the ins and outs of each program, it's a bargain when you consider the potential savings in not only money but the time you'd spend trying to figure out and search across programs.
And, as a Nomadic Matt reader, you can get $10 off an annual subscription with the code nomadicmatt.
2. It doesn't automatically sync with your loyalty programs and currencies
This might be a pro to those who don't want to give external access to their accounts, but it also adds an extra step in the process. It's also easy to forget to update when you do use your points.
3. Not all brands are supported (yet)
While Awayz supports many major chains — Hyatt, Marriott, Hilton, IHG, and Accor — it does not yet support them all. Wyndham and Choice are not currently supported, though these should be added soon. However, if these are your preferred brands, you might not find Awayz to be useful to you just yet.
Who is Awayz for?
Awayz is especially great for travelers that are newer to redeeming points for award nights. Using Awayz saves you time (and money) in the hotel award search and booking process, which is especially useful when you're first starting out learning how to get free stays. The cash-to-points comparison feature is especially key for this.
But even experienced travel hackers can get a lot of value out of the tool. If you have a lot of points in different currencies, you know how time-consuming it is to search across programs. Plus, the ability to set alerts can help you find elusive stays without having to constantly keep tabs on the hotel.
***
Awayz is a welcome addition to the growing scene of award booking tools. While there are a variety of comprehensive tools for finding award flights, so far, nothing comparable has existed for finding hotel stays you can book with points. With a growing suite of filters and features, as well as side-by-side comparison of points vs. cash pricing, Awayz helps you save both time and money — important resources no matter what type of traveler you are!
While it is a paid tool, there's a free trial available, and even paid versions become worth it when they help you find a great free stay.
And remember to use code nomadicmatt to get $10 off!
Book Your Trip: Logistical Tips and Tricks
Book Your Flight
Find a cheap flight by using Skyscanner. It's my favorite search engine because it searches websites and airlines around the globe so you always know no stone is being left unturned.
Book Your Accommodation
You can book your hostel with Hostelworld. If you want to stay somewhere other than a hostel, use Booking.com as it consistently returns the cheapest rates for guesthouses and hotels.
Don't Forget Travel Insurance
Travel insurance is one thing you WILL want to buy. It's there if you get sick, robbed, delayed, or a trip cancelled. I never go on a trip without it because you never know what could happen. Don't skip it. I've seen too many travelers regret doing so. My favorite companies are:
Want to Travel for Free?
Travel credit cards allow you to earn points that can be redeemed for free flights and accommodation — all without any extra spending. Check out my guide to picking the right card to get started. For US residents, here's how you can get points on rent too.
Ready to Book Your Trip?
Check out my resource page for the best companies to use when you travel. I list all the ones I use when I travel. They are the best in class and you can't go wrong using them on your trip.
The post Awayz Review: The Best Hotel Reward Tool? appeared first on Nomadic Matt's Travel Site.
Source link