Posted: 11/3/2022 | November 3rd, 2022
House sitting is one of the best ways to lower your travel costs as a long-term traveler. To help you learn more about house sitting, our lead content editor and researcher, Sam, shares her tips and insights from years of traveling the world as a house sitter.
For years, I lived the life of many budget travelers' dreams: traveling full-time and living rent-free in idyllic locations, like the US Virgin Islands; cosmopolitan cities, like NYC and London; tourist hot spots, like Granada, Spain; and many off-the-beaten-path places, like the forests of North Carolina.
I stayed everywhere from luxury condos with literal hot tubs on the roof to solar-powered homes with outdoor showers.
I got to hang out with the sweetest pets, from a cuddly kitten named Marshmallow to a hilarious parrot called Sunshine.
I also made friends with locals around the world, getting tips on the best lesser-known places to eat, and truly living like a resident in each destination.
When I paint this picture to fellow avid travelers, the immediate response is, "What a dream life! How do I live like that?!"
The answer is to house sit.
House sitting is when you take care of someone's pets and home while they're traveling in exchange for accommodation. No money is exchanged between parties, as it's a mutually beneficial arrangement: you get a place to stay at no cost, and the owner gets home and pet care at no cost. (I avoid using the term "free accommodation," as it implies that there's no work involved, which is not the case.)
House sitting is gaining in popularity, but it's still a little-known landscape for so many travelers. While I'm usually met with excitement when I discuss this topic with people who are not familiar with it, that also often comes hand in hand with skepticism — and understandably so. There are a lot of variables to consider, and if you've never met anyone who's done it before, it can be easy to think that it sounds too good to be true.
I'm here to tell you that house sitting in order to travel at a reduced cost is absolutely attainable. You'll not only remove most accommodation expenses (you might still have to pay for a night here and there, depending on how long you're on the road), but also connect with locals wherever you go (the people for whom you are house sitting), feel a sense of home on the road, and often get other perks as well, like a vehicle to use.
The only prerequisite is that you must love animals, as 99% of gigs involve pet care. But if you can do that, then you are good to go!
In this post, I'm going to show you how to start house sitting, so you can learn about the process and see what's required before jumping in and giving it a try yourself.
1. Determine your goals and preferences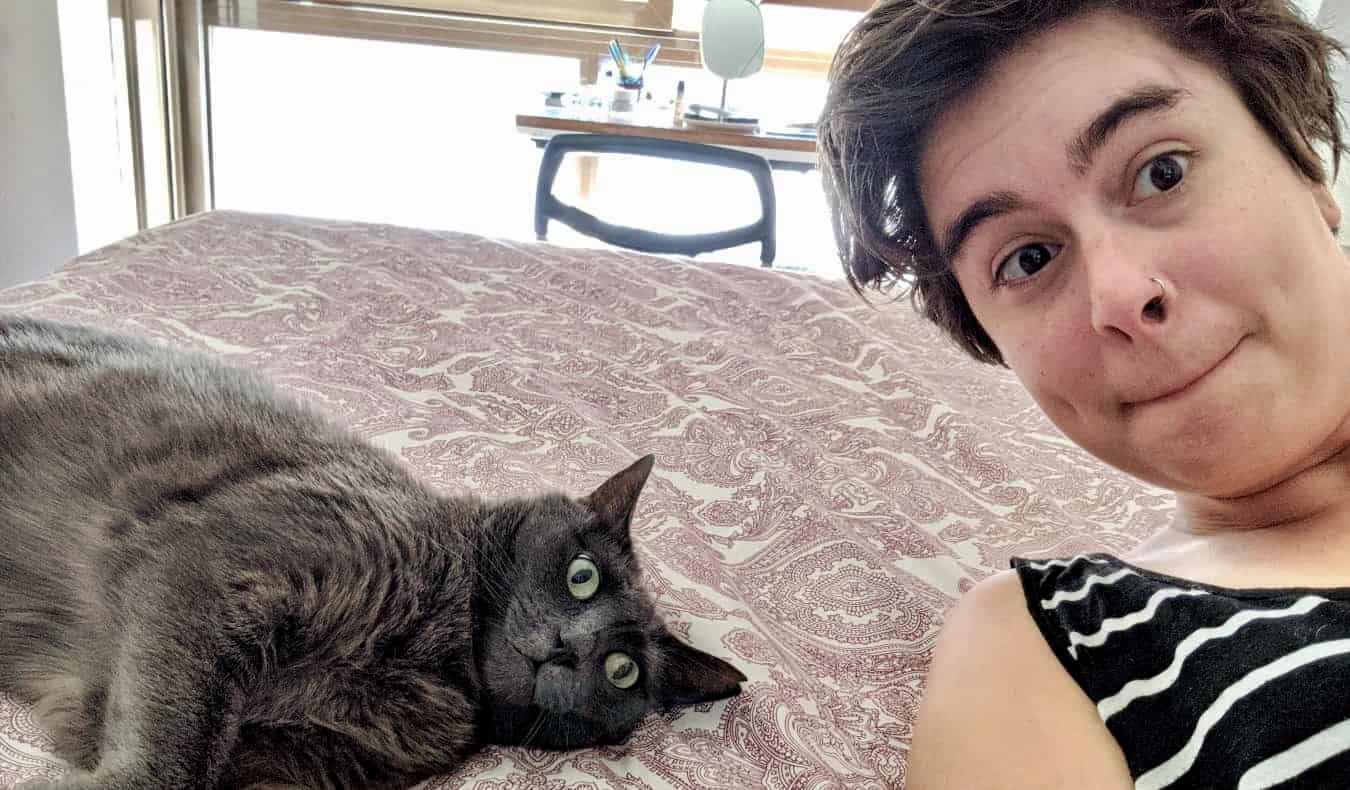 At this point, you might be anxious to dive right in, find a gig, and hit the ground running. But I promise that you'll set yourself up for a better experience if you take some time to determine what you want to get out of house sitting.
Your goals will greatly impact the choices you make along your house sitting journey, and whether you walk away with a positive experience. (Because yes, like with anything travel-related, there's always the potential for things to go wrong — I'll share how to minimize the likelihood of this happening later.)
It's pretty much a given that if you're interested in house sitting, your goal is to reduce your travel costs so that you can travel more and/or longer.
But do you want to house sit only locally, or around the world? Are you scoping out places where you might eventually purchase a home, take a sabbatical, aspire to travel full-time, or simply looking to reduce your costs on a weekend getaway?
These are all common reasons. Think about which ones apply to you.
For me, I wanted to extend my travels for as long as possible while freelance writing, growing my travel blog and podcast, and seeing what it was like to live in different places around the world. I couldn't have done any of these things without house sitting, which lowered my costs so significantly (after all, accommodation is usually one's biggest travel expenditure) that I could keep traveling despite not earning much money yet.
In addition to your goals, think about your preferences. Do you feel more comfortable with dogs or cats? Do you prefer the city or the countryside? Do you have an ideal length of time that you want to spend in each place?
In order to work effectively on the road while still getting to explore each place, I prioritized longer house sits (around 1–3 months). I also prefer urban environments where I can explore on two feet or two wheels rather than needing a vehicle, so I mainly searched for gigs in cities.
These are just a few variables that will help you narrow down which opportunities you consider. You'll also likely develop these preferences over time as you figure out what works best for you.

2. Sign up for a website
If you're serious about house sitting, your first order of business is to sign up for a website. These platforms connect pet owners and house sitters to arrange mutually beneficial stays. They're the easiest and most direct way to start.
Pet owners put up listings with their location, the dates they need a house sitter, their pets and type of care needed, any home care needed, and (ideally) photos of their home and pets. Potential house sitters create profiles listing their experience, references, why they want to house sit, photos, and any other details they want to include.
House sitters respond to opportunities that they're interested in (pet owners can also reach out to house sitters privately), sparking a conversation that may eventually lead to both parties coming to an agreement.
Most websites operate on a membership basis, meaning that members must pay a fee to be a part of the community and to be able to arrange gigs.
Many would-be house sitters balk at the idea of paying a yearly membership fee for these websites. Isn't house sitting supposed to be free?
But when you think about the amount of money that you could save, it's a no-brainer. Even the most expensive website, TrustedHousesitters, still only costs the equivalent of a couple of nights of accommodation. You only have to do one stay per year to recoup your costs, and chances are that you'll be doing a lot more than that, even as an occasional house sitter.
There are a variety of websites to choose from, but the main ones are these:
1. TrustedHousesitters.com (starts at $129 USD/year) – This is the biggest such website worldwide, with thousands of active listings all around the globe. It started and is based in the UK, so you'll find the highest number of gigs there, though Europe, the US, and Australia are also well represented. If you are open to house-sitting anywhere in the world, this is the site to choose. You can read my review here if you want to learn more.
2. Nomador.com ($99 USD/year) – Nomador centers on opportunities in Europe (mostly France), though you can also sometimes find some in the US and Australia too. There's a free "Discovery" option, so you can look at what's available, as well as a "Stopovers" feature, which is like Couchsurfing, so you can find a place to stay with members of the Nomador community between your gigs.
3. MindMyHouse.com ($20 USD/year) – This site has a low fee to join, a fair number of listings (primarily in North America and Europe), and a well-laid-out website.
In addition to the above websites that cover multiple countries, there are also country-specific ones, such as House Sitters America, House Sitters UK, House Sitters Canada, etc. If you're only interested in house sitting in a particular locale, these websites usually have way less competition than the bigger players, making it easier to get your first gig. They also have lower annual membership costs, making it a more palatable choice for getting your feet wet.

3. Create your profile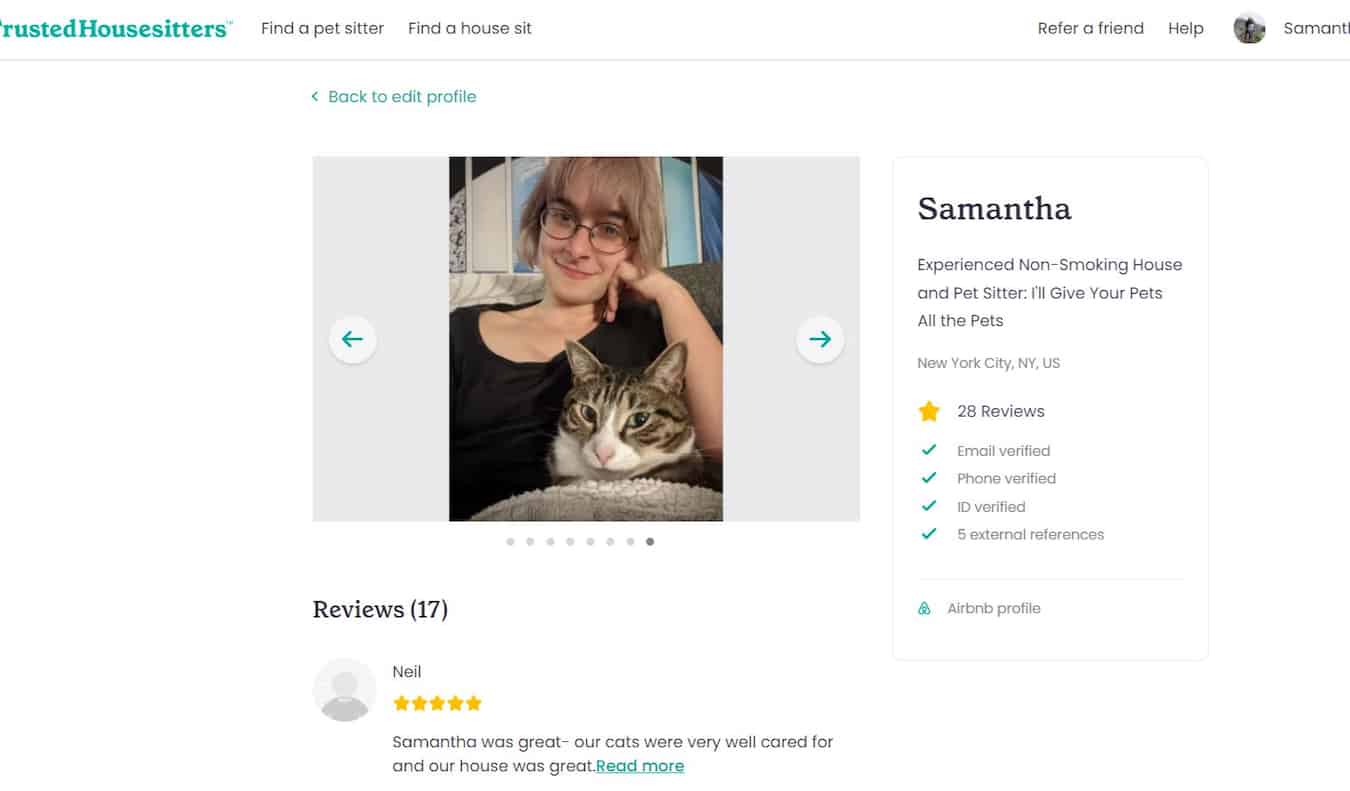 Once you've signed up for a website, it's time to create your profile. Above is an example from my TrustedHousesitters account.
Your house-sitting profile is like your résumé. This is where pet owners look to learn more about you, and it's essential to detail any and all pet-care experience you have. Have you done any house- or pet-sitting for friends and family? Many people have looked in on a neighbor's cat while they were away or taken a family member's dog on walks.
Include anything you can to show the breadth of your pet-care experience (though of course be honest). Any relevant home-care experience or other skills (such as if you speak another language) are worth mentioning here as well.
You'll also want to include a bit about yourself, with information about why you want to house sit, what you like to spend time doing, and anything else, so as to paint a portrait of yourself.
Finally, choose some photos of you (ideally with pets) to round out your profile, so that the owners can see who you are!

4. Ask for references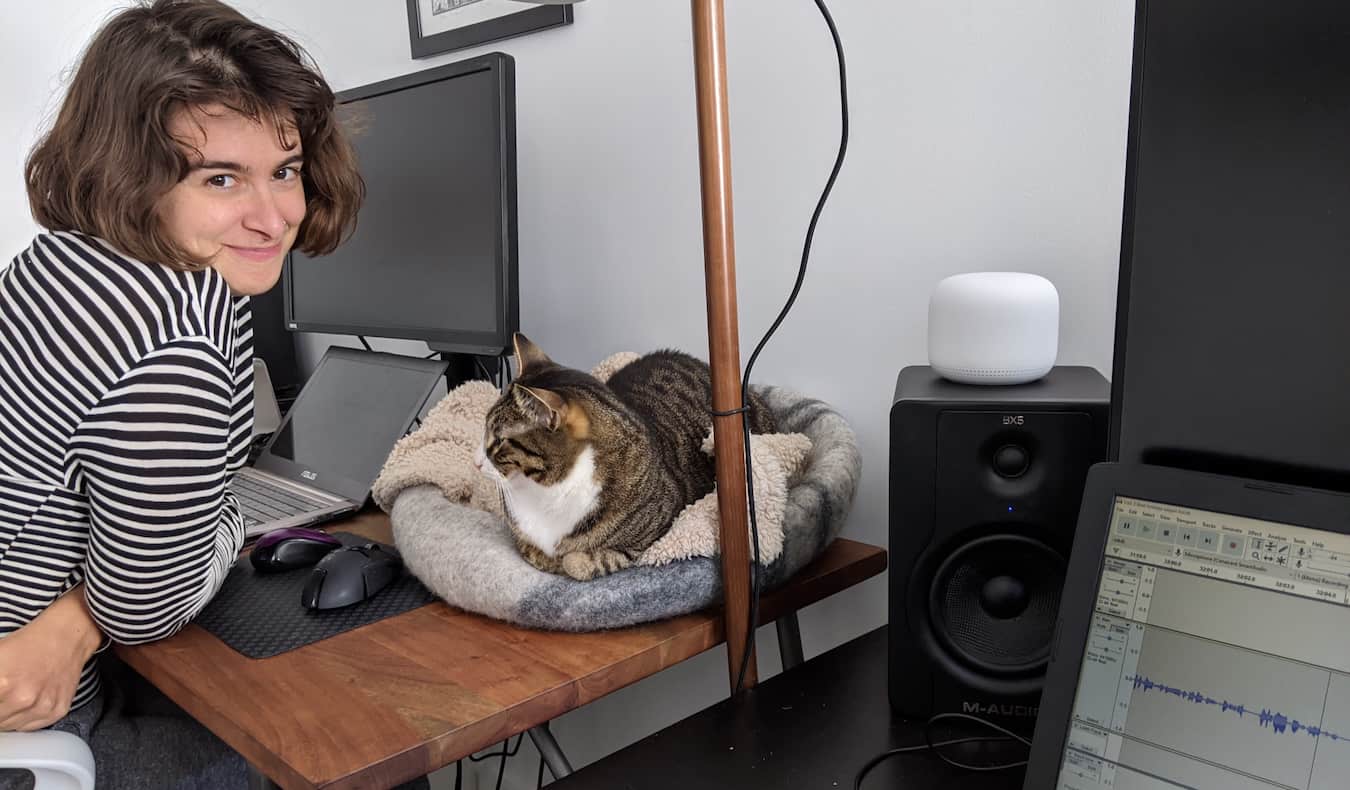 Now that you've filled out your profile, it's time to seek references to beef up your profile.
Once you start house sitting through these websites, you'll get "native" references showing that the gig was arranged through the website, increasing your trust factor for people you might house sit for in the future.
But most websites also allow you to get "external" references to show that you're a trustworthy person before your first "official" gig. Ideally, you'll have done some kind of pet-sitting before and can ask these folks to provide a reference. But references can also come from work colleagues, a landlord, or anyone else that can speak to your responsible character.
These references are key in the beginning, as being vouched for can be a powerful trust indicator. Don't skip this step!

5. Browse and apply for house sitting gigs

So you're all set up with your profile and references filled out. Now comes the exciting part: browsing for and applying for gigs!
Spend some time looking through the listings on the website(s) you've joined. If you find one that sounds good to you — and you're available for the time frame — don't hesitate to apply! Gigs, especially in desirable areas, can go very quickly, so don't dawdle if you've found one that you're interested in.
Remember: An application is not an agreement to house sit; it's simply a statement of interest.
In your message to the pet owner, include a bit about why you're interested, highlight your relevant experience, and indicate that you'd love to set up a time to chat further about the opportunity. You don't need to write an essay here, just enough to pique their interest and have them look at your profile for more information.

6. Arrange a video chat
While you might be so excited to start that you may want to agree to an opportunity as soon as it's offered to you, don't skip this important step. In a quick video call, both parties can ask questions to ensure that everyone is on the same page and that the arrangement is a good fit.
As a house sitter, you'll want to ask questions about pet and home care to ensure that you can (and want) to do it, as well as the immediate area around the house or apartment, home amenities (always ask about Wi-Fi!), and anything else that you're itching to know.
Every single time that I hear of a house sitting gig gone wrong (while it's rare, it does happen), it's due to mismatched expectations that usually could have been avoided with a direct and honest initial conversation.
I absolutely never agree to house sit without a video call. This is a personal choice, and some people do forgo this step, but it has never steered me wrong in the past, and personally, I'd rather be safe than sorry. A video call takes 20-30 minutes and does wonders for putting both parties at ease — and getting excited about the gig!
After years in a pandemic, we're all familiar (maybe too familiar) with Zoom these days, so there is (in my opinion) no reason why both parties shouldn't be able to sit down face-to-face for a brief conversation.
Some things that you might want to ask in the video chat step above and/or leading up to the gig include the following:
What's the pet-care routine (e.g., when meals are, if walks are needed, etc.)?
Are there any quirks about the pets that you should know about (e.g., for dogs, how do they do on walks around other dogs, etc.)?
Do they have a regular vet (and what is the procedure, including payment, if a pet needs to go)?
What's the neighborhood like?
What are the pet owners' departure and arrival times? Do they want you to come the night before they leave or on the day of departure?
This is just a starting list of some basics, but if you have specific needs or questions, be sure to ask them. You don't want to be left wondering and finding out something important after you get there.

7. Agree to the gig
Assuming all has gone well in the above steps, it's time to agree to house sit!
Make sure that you do so through the website that you've connected on, for a couple of reasons. Many websites have protection that kicks in should something go wrong, but only if you've confirmed the gig through the website.
Protection for house sitters and homeowners varies by website (check the fine print of the one you sign up for) but can include damage protection (you accidentally drop an expensive glass) and sit protection insurance (which can help cover nightly pet care or accommodation costs if the gig gets canceled at the last minute).
You'll also want to be able to ask for on-platform references after you've successfully completed the job. You can only get those by confirming the gig through the house-sitting website.
And once everything is confirmed, don't hesitate to keep in touch. If you have any additional questions or concerns, ask them! Direct and honest communication is key to successful house sitting, so don't be shy.

8. Have a fantastic time

While house sitting is a big responsibility, remember why you're doing this in the first place — to explore a new place and have fun!
That being said, always honor your commitment. Do not back out at the last minute because you found a more glamorous gig somewhere else, you changed your travel plans on a whim or anything else that's not a legitimate emergency.
If you want to stay spontaneous on the road, then house sitting isn't a good option — or at least not all the time. While some travelers do this full-time, the vast majority do not. Some nomads mix in periods of house sitting between other more flexible accommodation options, while others aren't nomadic at all and simply house sit to enjoy a different, more affordable way of traveling.
Find out what works for you and create your own ideal travel style.

9. Follow up by asking for a review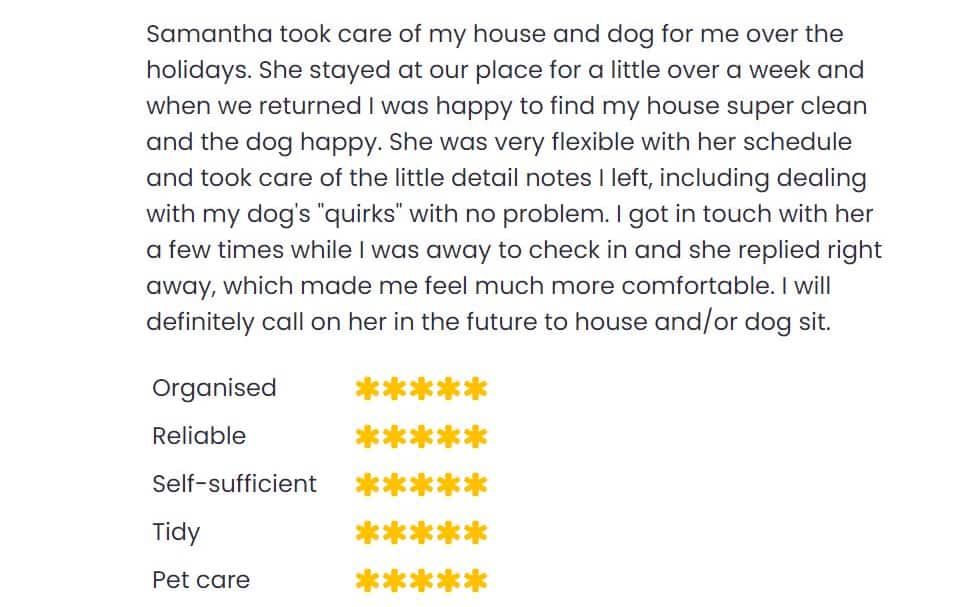 After every gig (but especially as you're first getting started), don't forget to ask for a review.
It's essential to build your portfolio of references, as this makes you a more trustworthy and competitive candidate for the next opportunities that you apply for. Give the folks you house-sat for some time to settle back in from their trip, and if they haven't submitted a review after a week, send along a gentle reminder that it'd be greatly appreciated if they could leave a quick review.
Most homeowners don't realize how important these reviews are to house sitters but are more than happy to help when you ask them for one.

10. Reflect, rinse, and repeat
Every gig is a learning experience, and this goes double when you're first starting out. Take stock of what worked and if there was anything that didn't. This will help you refine your approach for the future so that you can happily house-sit for as long as you want!
***
House sitting can be an incredible way to travel at a reduced cost, make new friends (both human and furry), and see the world in a different way. While it does come with some planning and a great deal of responsibility, the rewards can be huge. With these tips, you've already got a leg up.
Happy house-sitting!
Click here to join TrustedHousesitters today!

Sam Anthony is a content researcher and editor at Nomadic Matt. She is co-founder of Alternative Travelers, a travel blog focused on alternative approaches to travel, and has co-authored two books: The House Sitting Handbook: How to Live Your Dream Life Through House Sitting and The Madrid Vegan Guidebook. She's based in Buffalo, New York, and when she's not traveling can usually be found either rock climbing or cycling.
Book Your Trip: Logistical Tips and Tricks
Book Your Flight
Find a cheap flight by using Skyscanner. It's my favorite search engine because it searches websites and airlines around the globe so you always know no stone is being left unturned.
Book Your Accommodation
You can book your hostel with Hostelworld. If you want to stay somewhere other than a hostel, use Booking.com as it consistently returns the cheapest rates for guesthouses and hotels.
Don't Forget Travel Insurance
Travel insurance will protect you against illness, injury, theft, and cancellations. It's comprehensive protection in case anything goes wrong. I never go on a trip without it as I've had to use it many times in the past. My favorite companies that offer the best service and value are:
Ready to Book Your Trip?
Check out my resource page for the best companies to use when you travel. I list all the ones I use when I travel. They are the best in class and you can't go wrong using them on your trip.
The post How to Start House Sitting appeared first on Nomadic Matt's Travel Site.
Source link