Posted: 7/31/23 | July 31st, 2023
Travel insurance isn't an exciting topic to research. When you're planning a trip, the last thing you want to do is compare policies about theft and injuries that can occur abroad.
But, as I've said before, when an emergency strikes, it's better to be safe than sorry.
Whether you're traveling for two weeks or two months, buying travel insurance is a must.
But what happens when you're gone for two years, not just two months?
In that case, you need more than just emergency coverage. You need health care. You need coverage for routine and preventive check-ups and prescription drugs, as well as for broken limbs and lost luggage.
Created by SafetyWing, Nomad Health is global health insurance coverage for remote workers, expats, and nomads.
It's both emergency travel insurance and medical insurance while you're away. It's super affordable, making it a game changer for long-term travelers, digital nomads, and those living abroad.
Here's everything you need to know about Nomad Health to decide if it's right for you and your travel plans.
What is Nomad Health?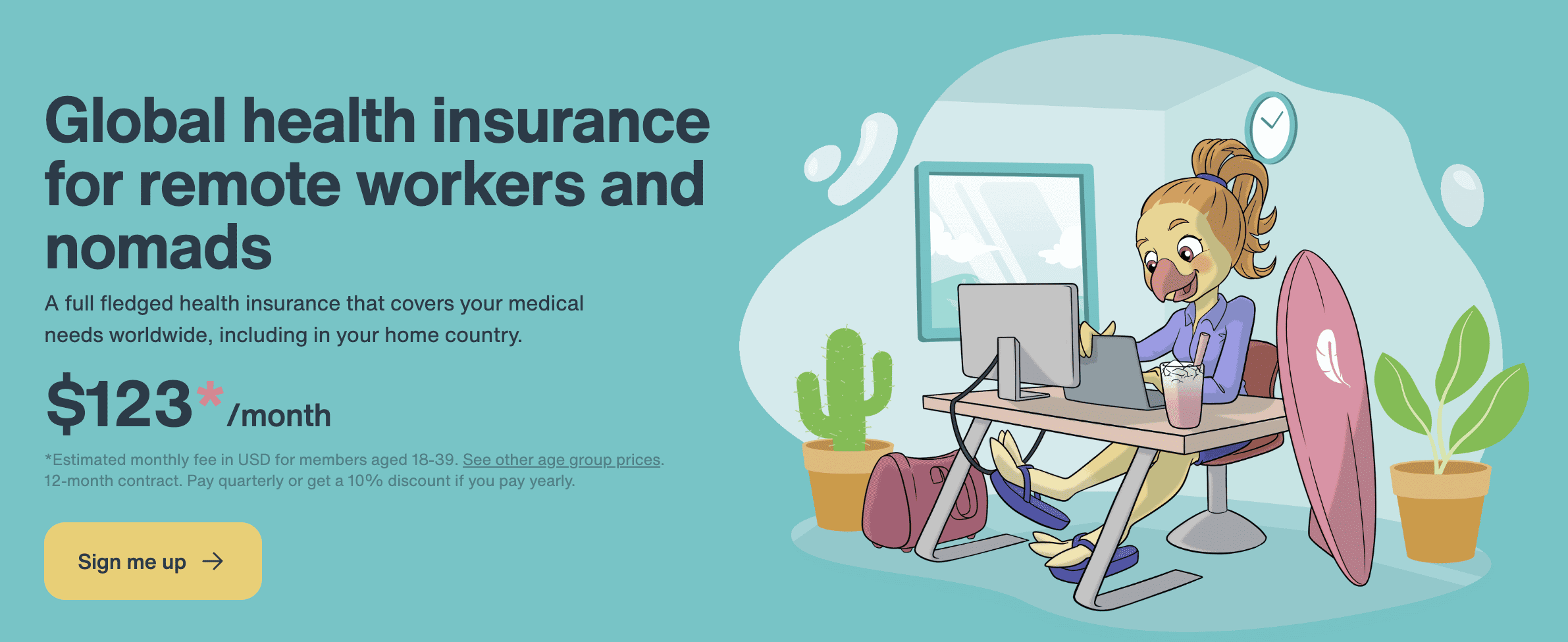 Nomad Health is insurance for digital nomads, remote workers, and long-term travelers. It's a mix of your standard emergency coverage that all travel insurance plans offer, along with "regular" health care coverage, such as routine visits and preventive care.
It's a replica of the kind of health insurance you might find in your home country, ensuring that you're looked after no matter what happens.
Currently, there are two tiers: Standard and Premium. The main differences (as you can see in the image below) is that Premium offers greater coverage: dental up to $1,500 USD, vision up to $500 USD, vaccines up to $500 USD, and maternity costs up to $7,500 USD.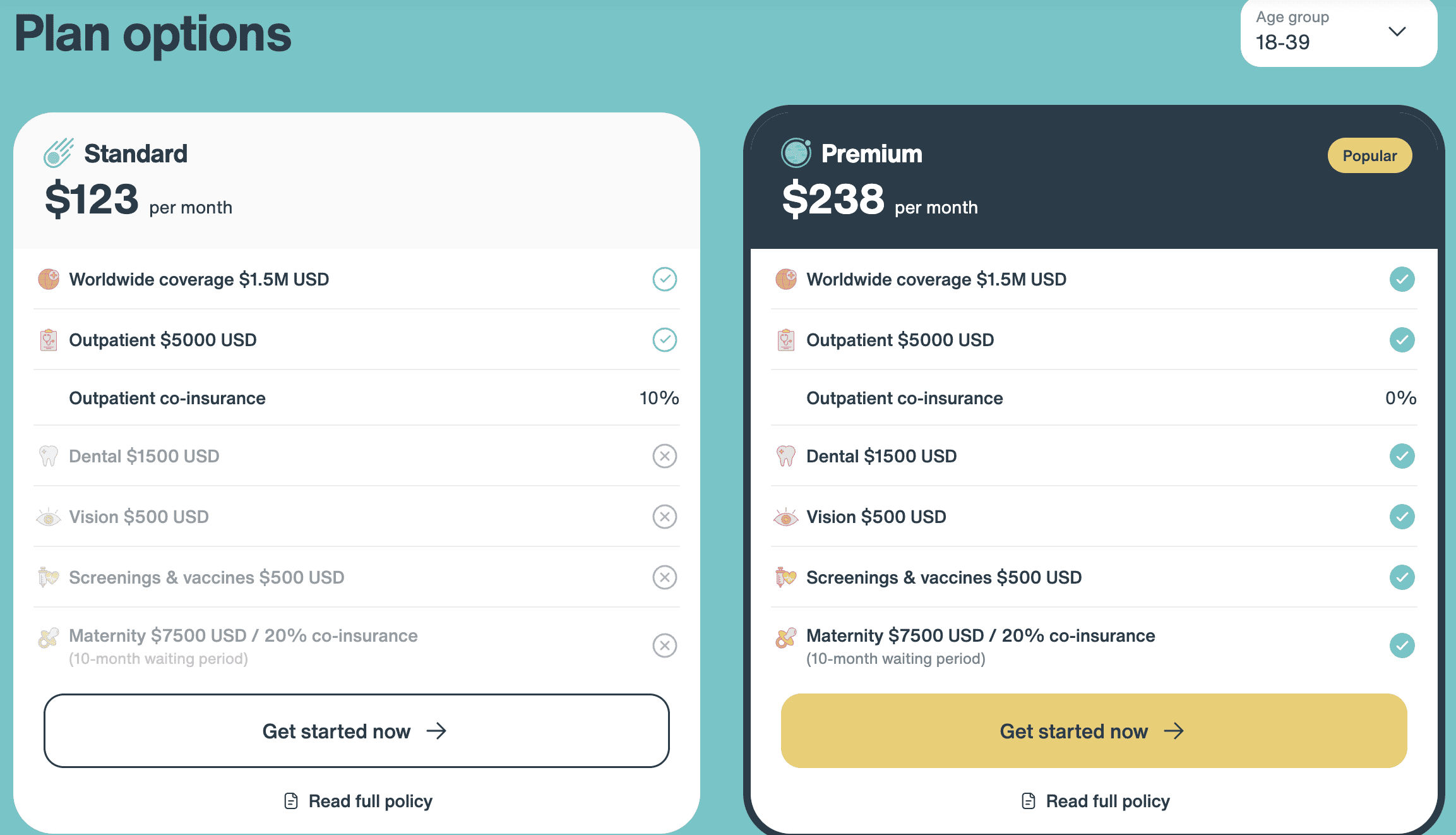 You can learn more and compare the plans here.
How is Nomad Health Different from Regular SafetyWing Coverage?


Travel insurance should be thought of as "emergency insurance." If you break a leg or lose a bag or get stuck in a hurricane, travel insurance can help.
Nomad Health, however, covers both emergencies and regular medical care. That means you can get support — and get reimbursed — for emergency and non-emergency events.
There are a few other differences to note when comparing Nomad Health with SafetyWing's standard travel insurance (called Nomad Insurance):
Nomad Heath covers those up to age 74 (vs. 69 for Nomad Insurance)
There is no deductible with Nomad Health (it's $250 USD with Nomad Insurance)
Claims are handled in 10 days (instead of 45 with Nomad Insurance)
Coverage for one's home country is included (that costs extra with Nomad Insurance)
Another important difference is that, unlike for regular travel insurance, Nomad Health applicants have to be approved. You can't just buy a plan and be on your merry way, as the insurance team needs to review your application, along with any medical history and/or pre-existing conditions. They may also request additional medical notes or documents.
Additionally, pre-existing conditions may not be covered, and there are some applicants that may not be able to be covered. (Pre-existing conditions are rarely covered under regular travel insurance.)
I don't love that some people are likely to be screened out, but I understand it given the cost of health care around the world. I suspect, since this was just rolled out, that as things progress and the pool of applicants increases and the company sees how this works, they will open it up to more and more people.
Who is Nomad Health For?
If you're heading out on a trip for a few weeks or a few months, Nomad Health isn't for you. Regular travel insurance (like SafetyWing's Nomad Insurance) will more than suffice.
But if you're going to be away for a year or more and want to make sure you have suitable health coverage for both accidents and routine care, then Nomad Health is for you.
In short, if you're a digital nomad, expat, or long-term traveler, this is the plan I'd recommend for you. Here's a look at what is covered: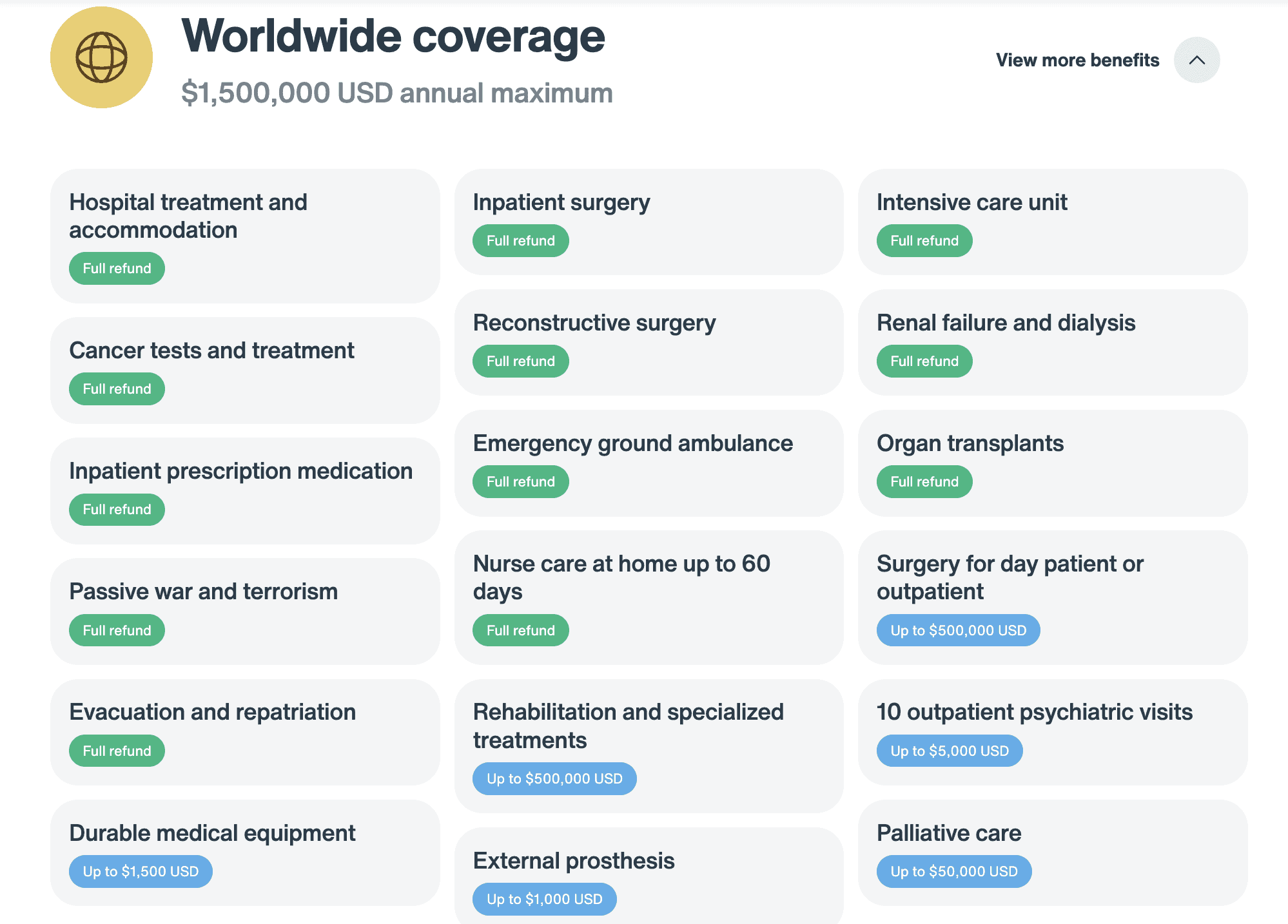 The most important number here is that $1,500,000 USD. Travelers using Nomad Health get $1.5 million in coverage each year, which is more than enough for pretty much anything. Most standard travel insurance plans cover just a couple hundred thousand dollars, so that $1.5 million casts a wide safety net and goes a long way to ensure you're covered no matter what happens.
How Much is Nomad Health?
If you're 18-39, a Standard Nomad Health plan costs around $123 USD per month. For a Premium Plan, that same traveler will pay $238 USD per month.
Prices go up per age group (just like with any insurance), so the highest monthly fee is for travelers aged 60-74, which costs $537 USD per month for the Standard Plan. Again, while that seems like a lot, it's much cheaper than most other options out there — and much cheaper than paying out of pocket.
To see how much a plan will cost for you, click here to get a free quote.
***
When I started backpacking, travel insurance options were limited. And expensive. Fortunately, we have a lot more options these days — with a lot better coverage. If I was starting out again, heading off on another 18-month trip around the world, Nomad Health is exactly the kind of plan I would get. It covers the basics as well as emergencies, and is also super affordable.
I know insurance seems like an unnecessary added cost, but I've learned the hard way — several times — that it's an expense worth paying for.
Don't be cheap with your health. Stay covered and stay safe. You won't regret it.
Book Your Trip: Logistical Tips and Tricks
Book Your Flight
Find a cheap flight by using Skyscanner. It's my favorite search engine because it searches websites and airlines around the globe so you always know no stone is being left unturned.
Book Your Accommodation
You can book your hostel with Hostelworld. If you want to stay somewhere other than a hostel, use Booking.com as it consistently returns the cheapest rates for guesthouses and hotels.
Don't Forget Travel Insurance
Travel insurance is one thing you WILL want to buy. It's there if you get sick, robbed, delayed, or a trip cancelled. I never go on a trip without it because you never know what could happen. Don't skip it. I've seen too many travelers regret doing so. My favorite companies are:
Want to Travel for Free?
Travel credit cards allow you to earn points that can be redeemed for free flights and accommodation — all without any extra spending. Check out my guide to picking the right card to get started. For US residents, here's how you can get points on rent too.
Ready to Book Your Trip?
Check out my resource page for the best companies to use when you travel. I list all the ones I use when I travel. They are the best in class and you can't go wrong using them on your trip.
The post Nomad Health: The Best Health Insurance for Digital Nomads appeared first on Nomadic Matt's Travel Site.
Source link