Posted: 7/9/23 | July 9th, 2023
It's never been easier to find a cheap flight. From deal finding websites like Going to travel hacking tools like Point.me, travelers have plenty of options for finding cheap tickets.
There's a lot of options for searching fares. I mean you have Google Flights, Expedia, Orbitz, Momondo, and so many other websites touting that they will find the cheapest fares.
There's no one best flight search website. They all have their blindspots.
But, out of all the search engines I've used, Skyscanner is my all-time favorite. It always seems to find the best deals more often than the other websites and their ability to search globally means that they leave no stone unturned. It's my favorite.
While Skyscanner is very straightforward to use, because of all its features, it helps to have a bit of a primer so that you can be sure you're taking advantage of all its capabilities.
In this Skyscanner review, I'll show you how to make the most of the site so you can always find the best deal!
What is Skyscanner?


Skyscanner is a travel search engine that allows you to search for cheap flights around the globe, as well as the best deals for car rentals and hotels.
It started in 2003 when three IT professionals became frustrated with how difficult it was to find cheap flights. Budget airlines were just beginning to pop up, but there was no central place to search across all airlines at once for the cheapest prices. So, they took matters into their own hands and created Skyscanner.
In recent years, they've added the ability to search for hotels and rental cars, and today, more than 100 million people worldwide use the app and website every month, with 80 billion prices searched every day.
How Skyscanner Works
As it's predominantly a flight search engine, to use Skyscanneryou simply input your desired travel dates (you can search by specific dates or by month) and destination, and voila — all your flight options appear. You can search by airport, city, or even an entire country.
If you're flying to and from major cities with multiple airports (such as New York and Paris in the example below), you don't have to search between all the different airport combinations as it will sort them all out for you automatically.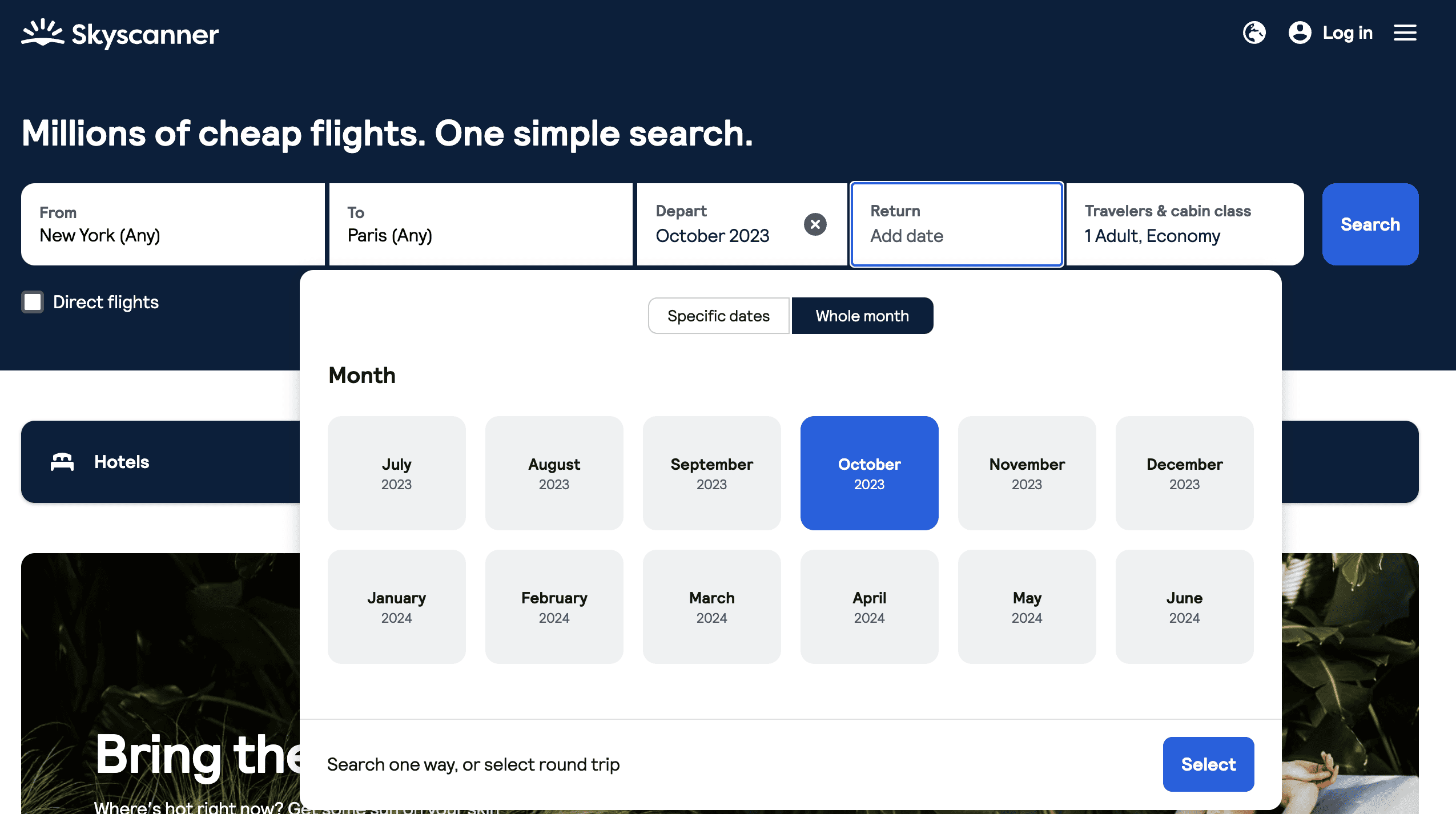 I recommend using the month calendar view because you can immediately see the cheapest days to fly. Even if you have specific dates, it might be helpful to take a quick glance at the month view, because if you're able to shift your dates even by a couple of days, you could save hundreds of dollars: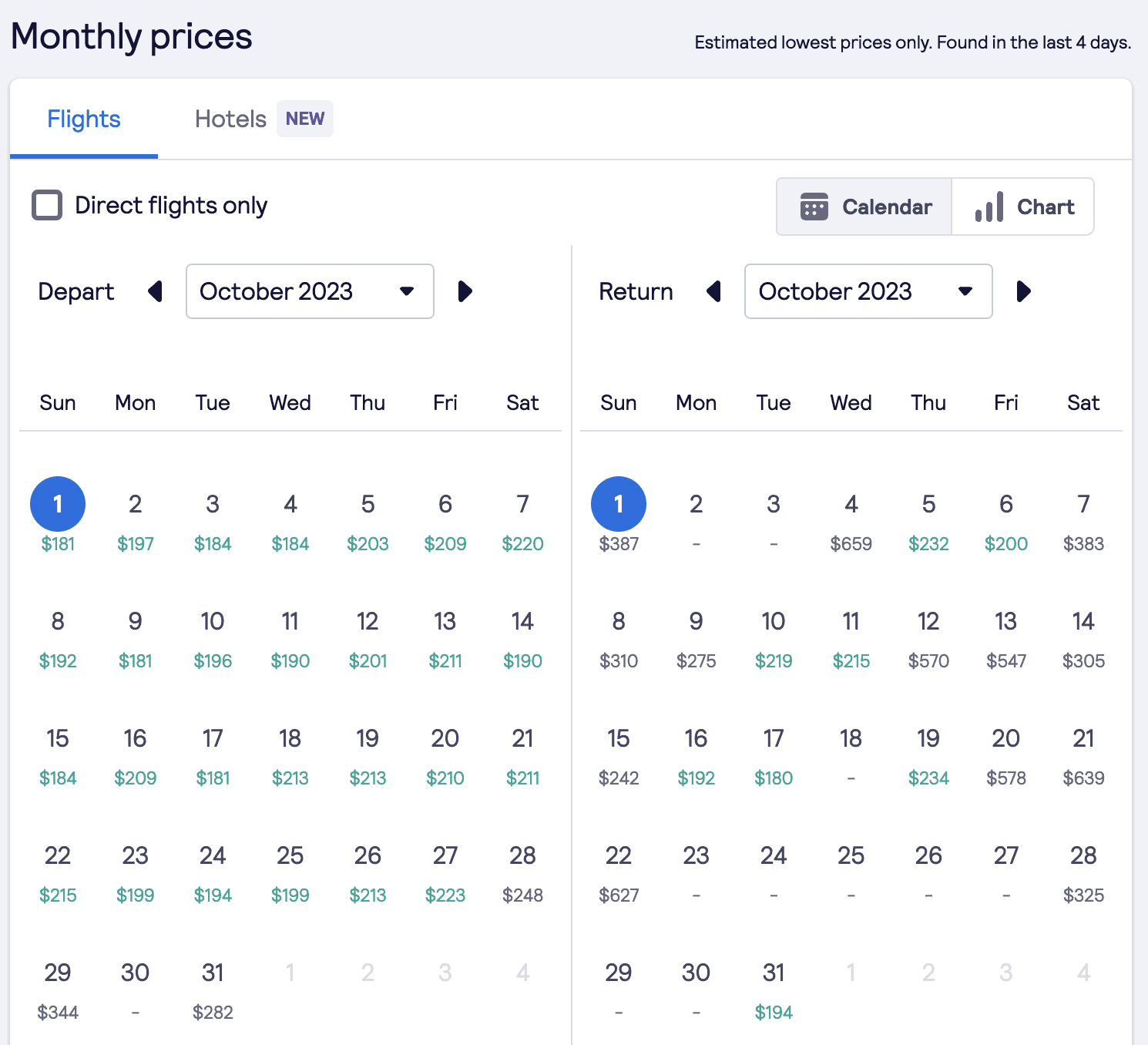 (Note: If a date doesn't have a price, that doesn't mean that there aren't any flights that day. It just means that no one has searched for that flight recently, so Skyscanner doesn't have updated data available. These dates are still searchable and a price will be added as soon as you search.)
Once you choose specific dates, you'll get your results and can start refining your search even more until you find your perfect flight. At the top of the results, Skyscanner gives you a helpful breakdown so you can immediately see the best, cheapest, and fastest flights. It automatically displays the best overall flight first, but you can toggle that to sort by cheapest, fastest, or time.
You can also filter your search in a variety of ways, including:
Number of stops
Departure times (on outbound and inbound)
Trip duration
Airlines and airline alliances (Star Alliance, SkyTeam, and Oneworld)
Airports (and for cities with more than one airport, you can toggle on the option to fly out and back using the same airport)
Carbon emissions (toggling this on will only show flights with lower emissions)
Let's say that you've sorted and filtered your results and found a flight that you want to book. Just hit "Select" and you'll be brought to a page that shows you all the websites where you could book that ticket. Skyscanner calls attention to the airline itself with a little green box next to that result: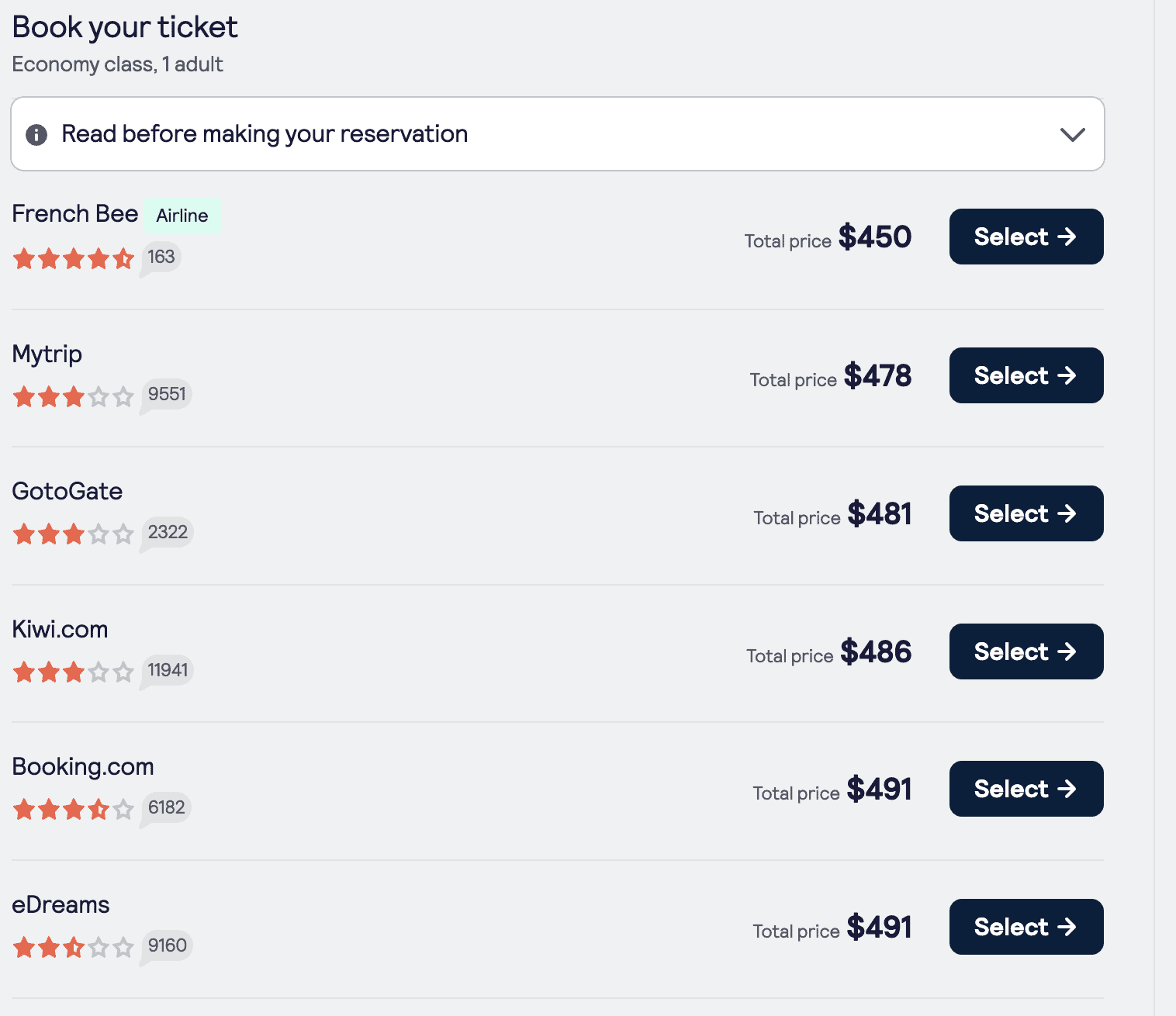 It's always best to book directly with the airline, even if it's slightly more expensive (in this case, it's actually cheaper than third-party sites), as should something go wrong (such as a flight delay or cancellation), they'll be on the hook to make it right. If you book with a third party (such as Expedia or MyTrip), it adds another layer of difficulty when it comes to getting refunds or changing/cancelling a flight.
(But no matter who you book/fly with, you should still get travel insurance as it'll protect you against unexpected expenses that arise when things go wrong on the road, including delays and lost luggage.)
If you're not happy with the current search results or aren't ready to book yet, you can set up a price alert and receive an email if the price changes.
Skyscanner's Everywhere Feature
The coolest feature on Skyscanner is the Explore Everywhere option. It allows you to search the entire globe from any chosen airport for the cheapest flight. This is a great option if you have a certain time frame in which you'd like to travel but are open to going wherever the cheapest flight will take you. You can search by specific date or an entire month for even greater flexibility: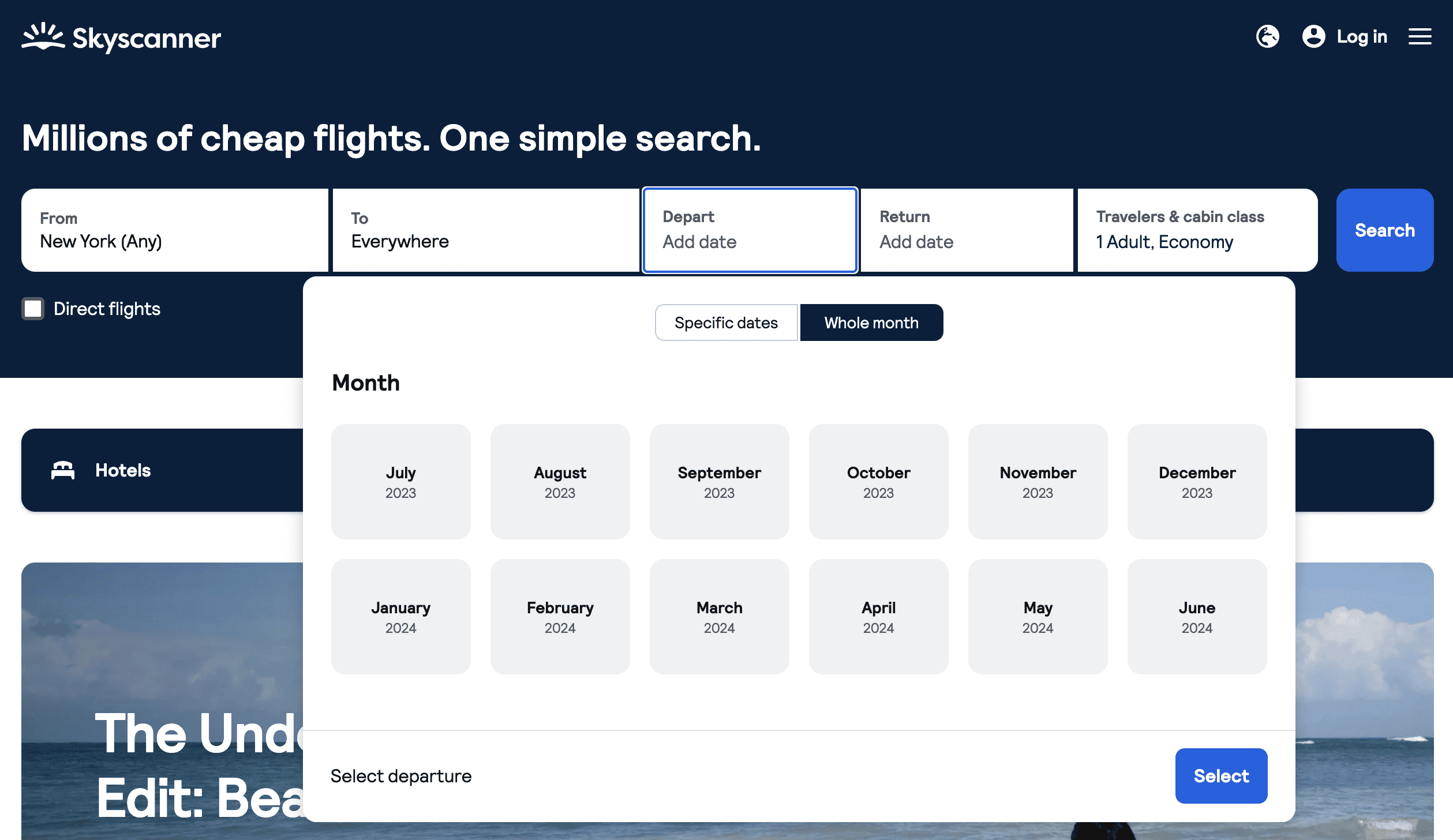 Once you've chosen your time frame, you'll be brought to the results, ordered by country. Let's say you're searching in November for cheap flights from New York. You can see that the cheapest flights are elsewhere in the continental United States, with Puerto Rico, Guatemala, Canada, El Salvador, and Colombia all coming up next (and for super cheap!).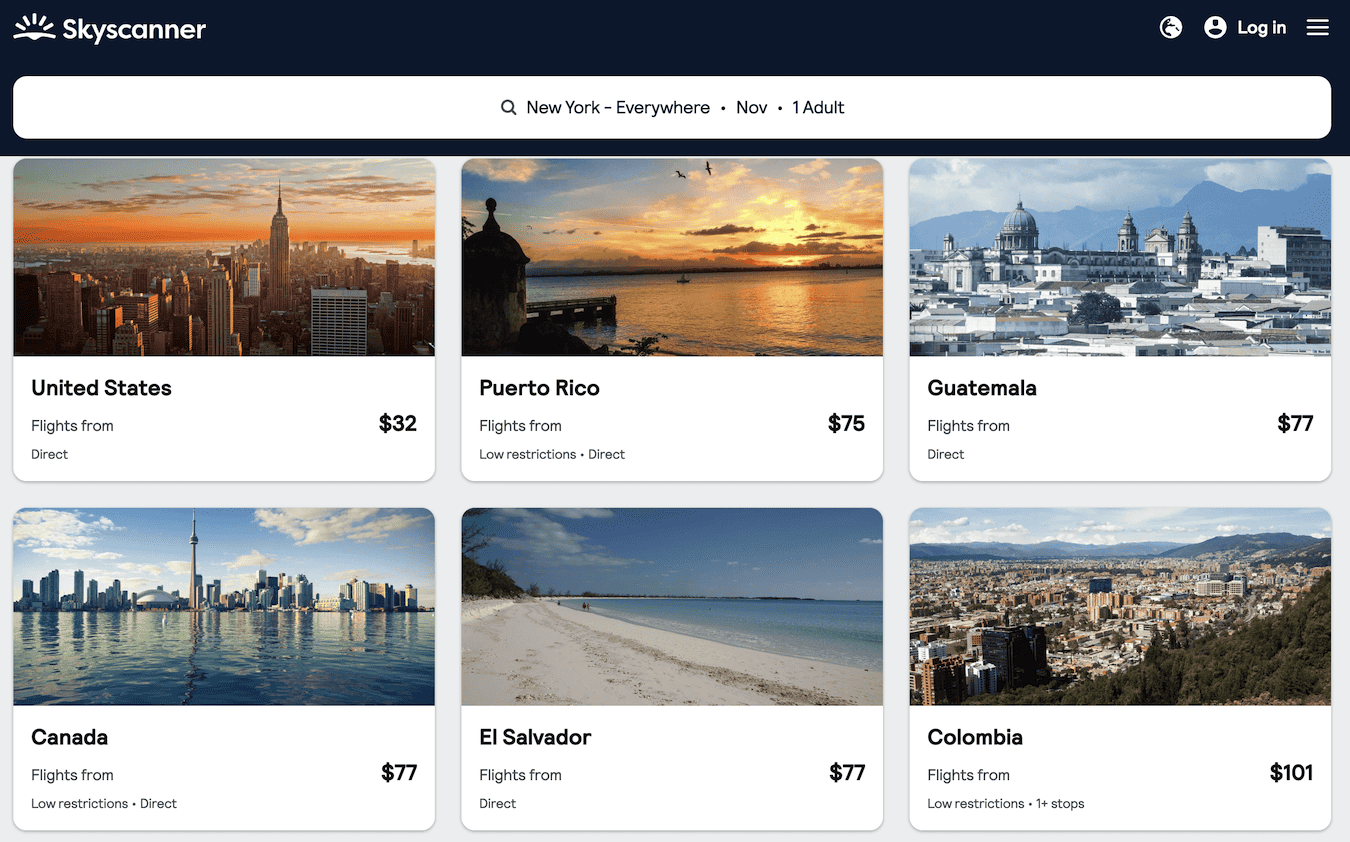 If you're open to traveling anywhere, this is an invaluable tool. I use it all the time and can't recommend it enough!
Multi-City Trips
If you're considering a trip with multiple destinations, Skyscanner has a handy "multi-city" feature where you can add up to six legs on one itinerary. This is perfect for anyone planning a trip around the world who wants to book their main flights in advance and have everything in one place for simplicity.
You can even use the multi-city tool to find and book flights where not all legs are connected. For example, say you want to go NYC-Madrid-Paris-London and then back to NYC — but you want to take the train from Paris to London so you don't need a flight for that leg. You can skip legs with the multi-city tool, meaning that you can mix-and-match flights with other forms of transportation as you travel, giving you a lot of flexibility as you plan and book.
Skyscanner's Savings Generator Tool
Skyscanner's latest new tool is its Savings Generator, which uses past flight data to give travelers insights on how and when to book the cheapest flight for an upcoming trip. You put your departure airport, month, and desired destination into the tool, and it'll tell you the best days to travel on as well as how far out to book: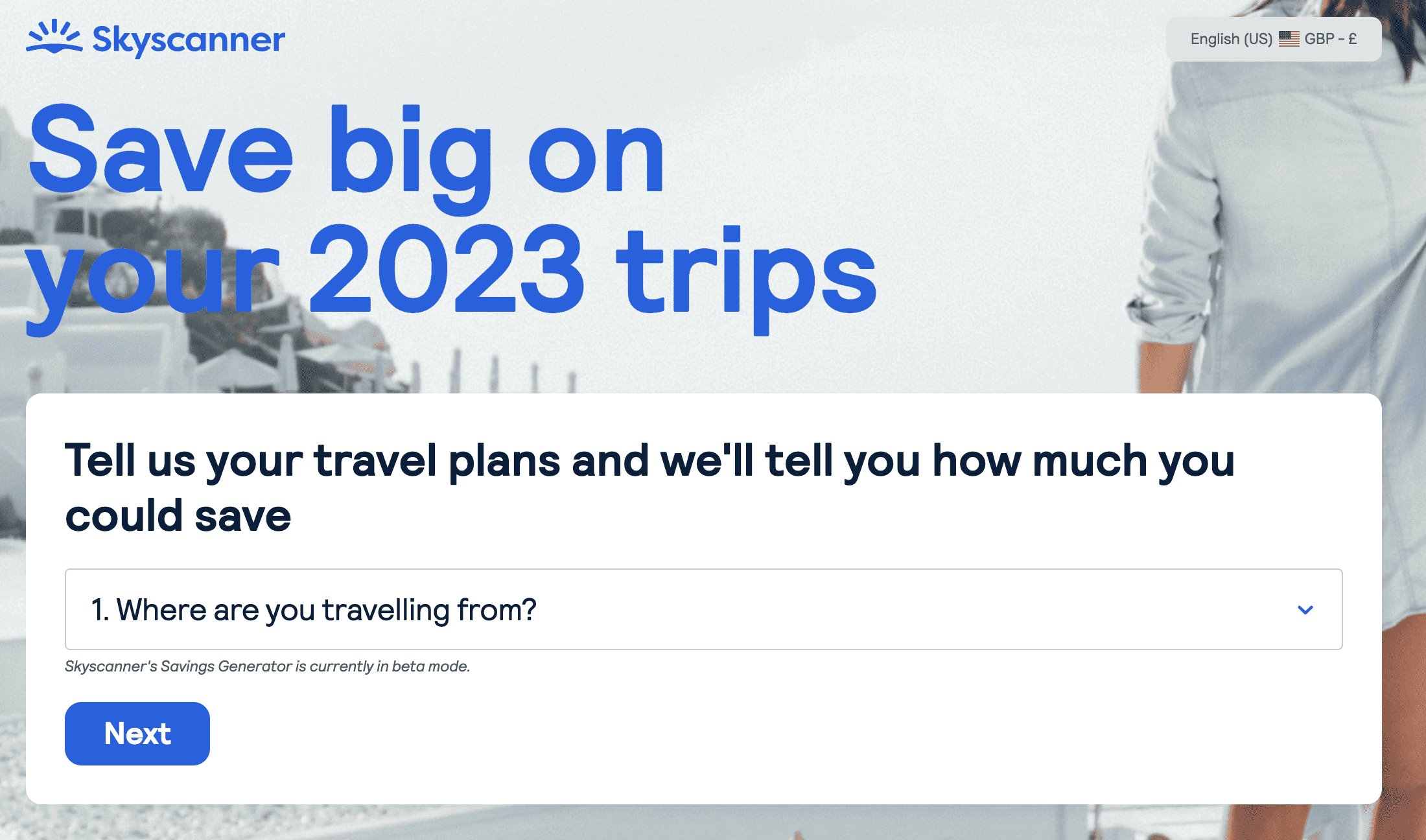 Let's say that you tell the Savings Generator that you want to travel from New York to Paris in May of next year. Skyscanner will tell you its best money saving tips based on last year's flight data: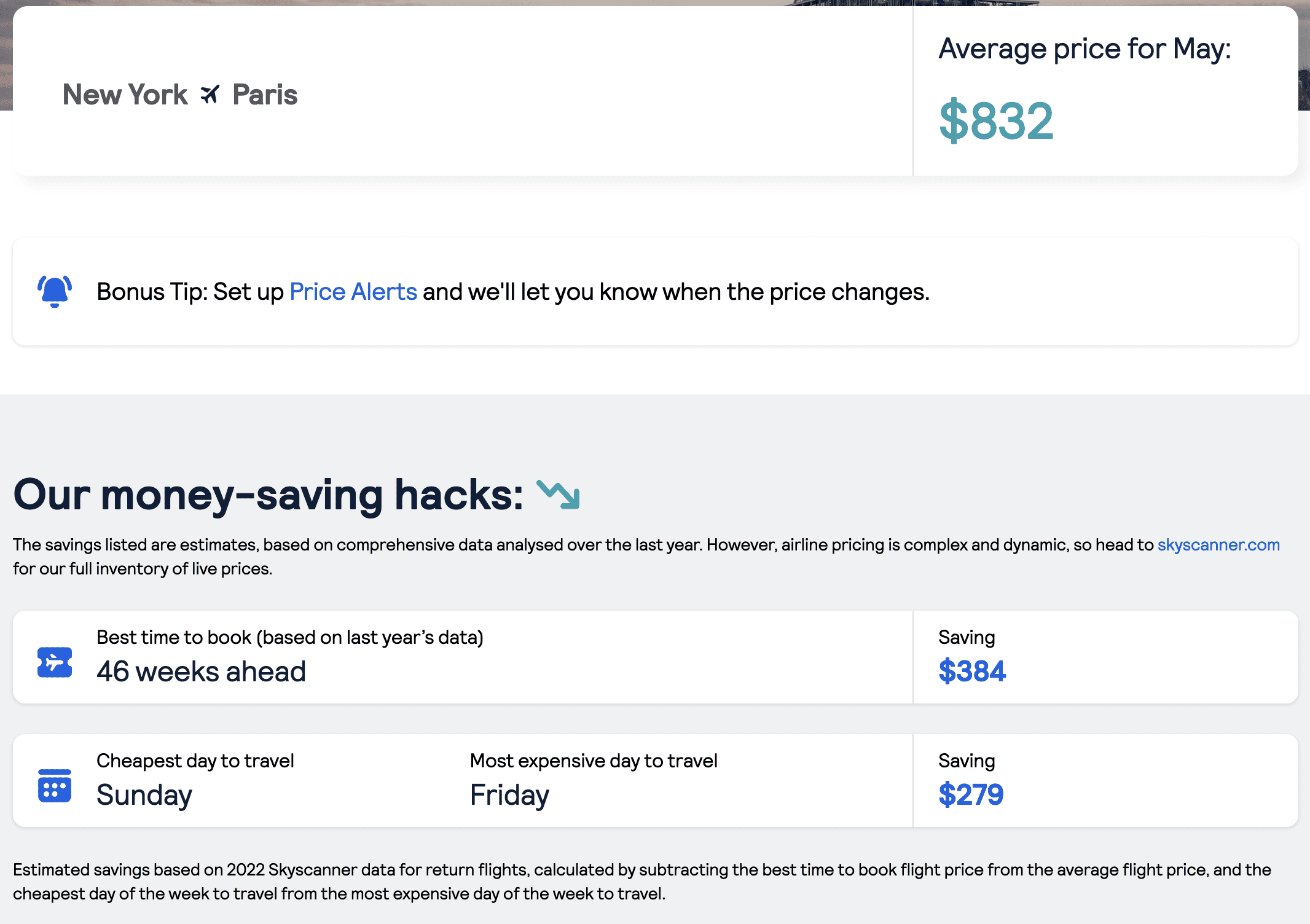 It'll also give suggestions for cheaper places to travel from that departure airport during that month, in case you're open to being flexible with your destination to save money.
While it's an innovative concept, the Savings Generator is currently in beta mode, meaning that it's still quite limited in its usage. Only major airports and destinations are searchable in the tool, and there could be more money-saving tips included. But knowing Skyscanner, they'll surely continue to develop and expand this tool to help travelers find the cheapest flights out there, so it'll be interesting to see what they do with it.
Hotels and Rental Cars
Skyscanner started offering hotel searches in 2014, so if you'd like to search for accommodation at the same time, it'll open a new tab and display all your options on a map. As with their flight search, they search different booking websites to find the best deals, and you can filter and sort the results in a variety of ways.
You can also search for car rentals at the same time and toggle the filters until you find a rental that works for your needs.
***
Skyscanner is a vital tool for finding the best and cheapest flights. It's where I start all my flight searches, and I recommend you do the same. Whether you need a flight on exact dates or are open to going anywhere the cheapest flight will take you, Skyscanner has you covered.
You can use the widget below to start planning your next trip:
Book Your Trip: Logistical Tips and Tricks
Book Your Flight
Find a cheap flight by using Skyscanner. It's my favorite search engine because it searches websites and airlines around the globe so you always know no stone is being left unturned.
Book Your Accommodation
You can book your hostel with Hostelworld. If you want to stay somewhere other than a hostel, use Booking.com as it consistently returns the cheapest rates for guesthouses and hotels.
Don't Forget Travel Insurance
Travel insurance will protect you against illness, injury, theft, and cancellations. It's comprehensive protection in case anything goes wrong. I never go on a trip without it as I've had to use it many times in the past. My favorite companies that offer the best service and value are:
Want to Travel for Free?
Travel credit cards allow you to earn points that can be redeemed for free flights and accommodation — all without any extra spending. Check out my guide to picking the right card and my current favorites to get started and see the latest best deals.
Ready to Book Your Trip?
Check out my resource page for the best companies to use when you travel. I list all the ones I use when I travel. They are the best in class and you can't go wrong using them on your trip.
The post Skyscanner Review: The Best Website for Finding Cheap Flights appeared first on Nomadic Matt's Travel Site.
Source link